The 2020 Honda Fit is in its final year and deals continue to disappoint. Like many brands, Honda decided to discontinue its subcompact car option which typically had low margins. Unfortunately for shoppers, that means current incentives for both leasing and buying continue to be poor despite its demise drawing nearer.
This month, the 2020 Fit LX is available for $169/month for 36 months with $1,999 due at signing and a 10,000 mile per year allowance equating to an effective monthly cost of $225. This is more expensive than the Sign & Drive offer we saw last month which had an effective monthly cost of $210. Although the Fit presents one of the cheapest small cars to lease this month, relative to its $17,000 price tag, it's actually a fairly poor value. For reference, it's cheaper to lease a 2021 Chevrolet Trax ($208) despite the Trax being $7,000 more expensive.
In terms of financing, the Fit continues to feature a low-interest offer of 1.9% APR for 60 months or 2.9% for 72 months. This can be combined with up to $500 in unadvertised dealer cash, although this discount isn't guaranteed. Unfortunately, the Fit was left out of the list of vehicles included in Honda's first-ever 0% APR offer which would have made it more competitive against options like the 2020 Nissan Versa (0% APR for 36 months plus $500 bonus cash) and the 2020 Kia Rio (0% APR for 66 months).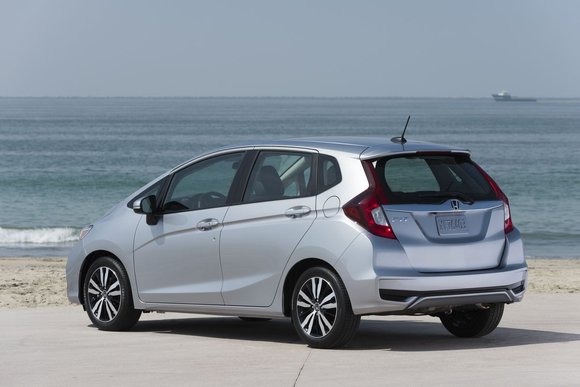 In typical Honda fashion, cash rebates remain scarce as well on the subcompact vehicle, placing the Fit even further behind competitors' incentives. Compared to the Fit's potential $500 dealer cash, the Versa sees up to $1,500 in rebates while the Rio features up to $1,250 off MSRP.
Based on our analysis of national inventory levels, there are about 5,300 Fits available on dealer lots. That's still a decent amount of inventory meaning we could see some incentive enhancements before the 2020 Fit officially sells out.
Other models that have been discontinued include the Toyota Yaris and Chevy Sonic. However, those still interested in purchasing a subcompact car have a few options left such as the Mitsubishi Mirage, Nissan Versa, and Chevy Spark, which is now the cheapest vehicle shoppers can buy.
Current offers on the Fit are available nationally and expire March 31.

Nissan Versa offers are based on a Los Angeles location and Kia Rio offers are available in CA, CO, DE, FL, HI, IL, IN, ME, MI, MN, ND, NE, OH, PA, UT, VT, WI, WY. Both expire February 1.