Honda has been offering some extremely strong leases in recent months, from Sign & Drive offers to leases including bonuses for coming from a competing brand or staying loyal to Honda. This month, current Honda customers can get the 2020 Honda Passport for a steal as it is now available to lease for $18 less than the smaller and cheaper 2020 Honda CR-V.
The 2020 Passport is available for $209/month for 36 months with $2,999 due at signing which equates to an effective monthly cost of $292. The 2020 CR-V starts at $310/month for 36 months with $0 due at signing thanks to Honda's Sign & Drive offer, leading to an effective monthly cost of $310. Both come with a yearly mileage allowance of 10,000 miles.
Comparing price tags, the Passport has a starting MSRP of $33,110 (including destination fees). That's $6,840 more than the CR-V which starts at $26,270. Given the large difference in price, it's almost a no brainer to go with the larger Passport, especially if you're looking for more room. In terms of performance, the Passport is the better option with Honda's 3.5-liter V6 engine with 280 horsepower and 262 lb-ft of torque. However, you'll sacrifice significantly in terms of fuel economy compared to the CR-V's turbocharged 4-cylinder motor.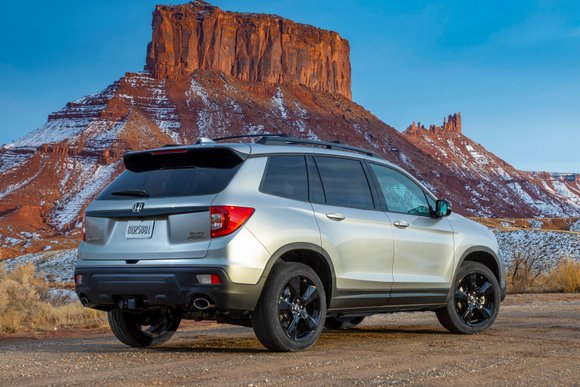 Shoppers should note that our analysis of recent inventory levels shows that the 2020 Passport is almost sold out. Luckily, Honda is offering the same loyalty lease on the 2021 Passport. Although slightly more expensive at $33,710, the 2021 Passport has a lease payment of $229/month for 36 months with a 10,000 mile per year allowance and $2,999 due at signing for an effective monthly cost of $312. That's only $2 more than the 2020 CR-V and still presents an excellent deal.
Alternatively, for those who are looking to purchase, the 2020 Passport features 0.9% APR for 60 months which is the closest we've seen Honda get to a 0% APR deal. Opting for the 2021 model keeps the 0.9% APR but for only 48 months. Both can be combined with a $1,000 loyalty bonus for existing Honda owners.
This offer is available only to current Honda owners who reside in the following states: AZ, CA, CT, CO, DE. FL, IA, IL, IN, KY, MA, ME, MI, MN, MT, ND, NE, NH, NJ, NM, NV, NY, OH, PA, RI, SD, UT, VT, and WI. Those that don't meet these conditions can expect to see higher prices.
Current offers are available through January 4.