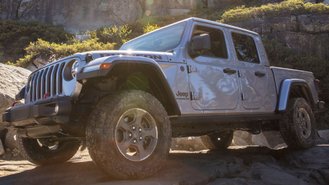 Jeep appears to be responding to high inventory levels for its Gladiator pickup with another surge in incentives. According to a bulletin sent to dealers late last week, 2020 Gladiators are now eligible for a 50% boost in savings. In some instances, our analysis finds dealers are now offering nearly $13,000 in discounts.
On March 12, Jeep introduced a special type of incentive called a VIN-Specific Inventory Bonus. The offer isn't listed on Jeep's website but is available nationally when buying or leasing specially-tagged Gladiators. If you can find a qualifying truck, the offer can be combined with a $2,000 rebate for $3,000 in savings.
While that marks a 50% boost in discount, dealers are going considerably farther and to a degree that we've never seen before on this model.
Back in January, we reported on how dealers were advertising up to $9,000 off in some parts of the country. Now, we're seeing instances in which consumers can expect to see double-digit savings on the brand's newest model. For example, a dealer in Huntington Beach, California is offering up to $12,850 off MSRP.
While discounts can often vary from truck-to-truck, the dealer in question has well over a dozen Gladiators in stock with discounts ranging from $10,000 to over $12,000 off MSRP. Not planning to buy? Those looking to lease a new Gladiator will find some extraordinary deals that undercut key competitors.
In California, Jeep is advertising the Gladiator S at $227 for 36 months with $3,995 at signing, an effective cost of $338/month (10,000 miles/year). That's over $30 cheaper than a 2020 Toyota Tacoma SR5 in places like Northern California. Unsurprisingly, we consider it one of this month's best leases on a truck.
Current offers end March 31.