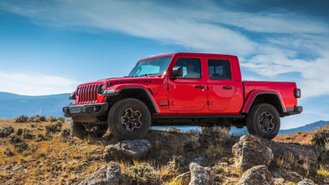 Leases for the all-new Gladiator pickup continue to present a great opportunity for value-oriented shoppers to save. Despite having a sticker price that's up to $5,500 more expensive than the Wrangler, our analysis finds that favorable residual values can make the Gladiator up to $75/month cheaper to lease.
Here's an example based on offers we're seeing in California. The 2020 Gladiator Sport is listed at $245 for 36 months with $4,259 due at signing with an annual allowance of 10,000 miles per year. That's based on an MSRP of $37,040 and equates to an effective cost of $363/month.
At the same time, the 4-door Wrangler Unlimited Sport (MSRP $36,235 with Package 24B) is listed at $269 for 36 months with $4,389 at signing. At $391/month, its effective cost is $28 more expensive than the Gladiator. Things really get lopsided when you look at the 2-door model.
Since the 2-door features lower residuals than the 4-door, it ends up being more expensive.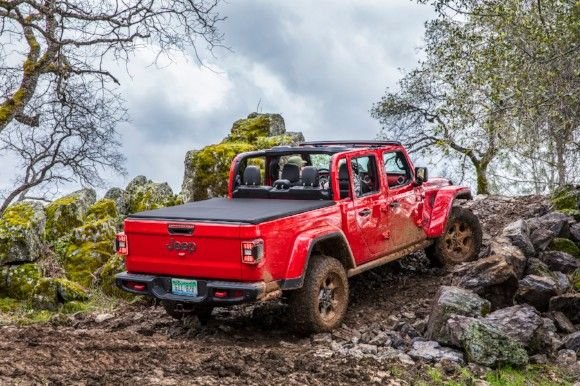 In the case of the entry-level Sport trim (MSRP $31,540), Jeep is advertising a lease at $327 for 36 months with $3,999 at signing, an effective cost of $438/month. That's $75 more than the Gladiator, or $2,700 over the course of the lease.
So how is the Gladiator $5,500 pricier on paper but $75/month less expensive to lease? The answer lies in the underlying residual values. Dealer leasing guides show the Gladiator has as much as an 18% advantage in 36-month residual value when comparing the base trims.
Having said all that, there's a catch worth knowing about. As we reported earlier this month, cheaper configurations of the Gladiator have been extremely hard to find. Dealers are still loaded up with pricier styles, and consumers will find it tough to find versions under $40,000.
Interestingly, Jeep isn't sitting still when it comes to Wrangler deals. Earlier this month, the brand started giving dealers unadvertised dealer cash incentives to help lower prices on 2019 inventory. With 2020 stock starting to arrive, now may be a good time to negotiate.