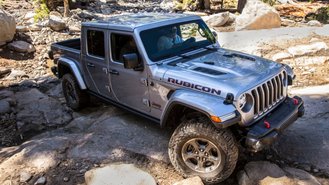 Shoppers looking to score a deal on a new Jeep Gladiator will find the latter half of January to be a great time to buy. A mix of dealer discounts and a new rebate has resulted in as much as $9,000 in savings in some parts of the country. In some cases, consumers may find the vehicle to be a smarter buy than the Wrangler.
To start, dealer incentive bulletins reveal that Jeep introduced a $2,000 bonus nationally on 2020 Gladiators back on January 17. Through February 3, all trims are eligible except the Rubicon. The exclusion is something we've seen with past offers like last year's loyalty discount and a deal for those switching brands.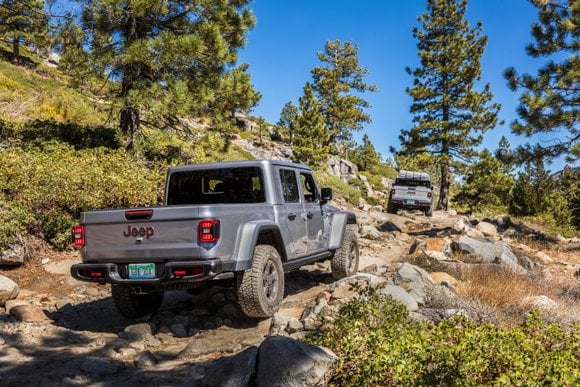 Leasing a Gladiator has also become a lot more affordable. Earlier this month, the Gladiator Sport was listed at $310 for 36 months with $4,004 at signing, an effective cost of $421/month here in California. Now, it's listed at $259 for 36 months with $3,970 at signing, or $369/month.
That's an improvement of $52/month. Based on our analysis, lease prices for the Gladiator edged upward last fall due in part to a drop in the vehicle's underlying residual values. The latest changes could be a welcome relief for those looking to lower their effective lease costs.
While the Gladiator's MSRP starts about $1,750 higher than a 4-door Wrangler Unlimited, shoppers may find the Gladiator to be a much better deal. There are no rebates on Wranglers at the moment, which means the $2,000 incentive could make the Gladiator more affordable.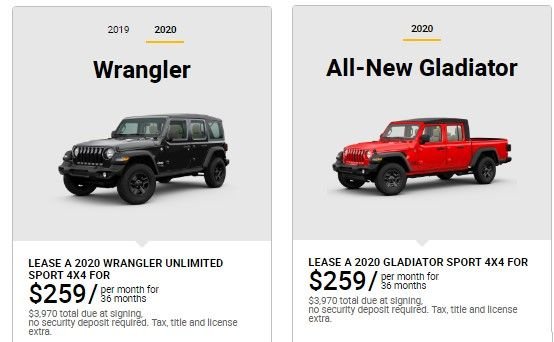 Curiously, a closer look reveals that Gladiators and Wranglers now have the exact same lease price here in California (see above screenshot from Jeep's website). That could come as a shock to consumers expecting to have to pay a premium for a vehicle that's newer and more expensive on paper.
Dealer inventory listings show some surprisingly deep discounts for those willing to shop around. For example, a dealer in Huntington Beach is offering up to a $6,830 discount, which combined with the rebate offers up to $8,830 in savings. In Northern California, a dealer is advertising $9,000 off MSRP.
Will better deals emerge next month for Presidents' Day? That remains to be seen. Stay tuned for our special coverage in early February.