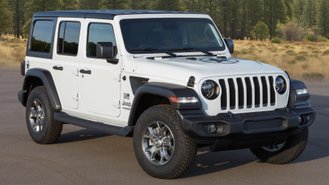 Although opting for the latest version of a vehicle can often entail paying higher prices, that's probably not going to be the case if you're planning to lease a Jeep Wrangler. Based on our analysis, advertised prices for the 2020 Wrangler can actually be cheaper than the 2019 model.
Here in California, Jeep's featured deal on the 4-door 2019 Wrangler Unlimited Sport is $289 for 36 months with $4,419 at signing, an effective cost of $412/month.
At the same time, the 2020 model (also the 4-door Sport) is listed at $309 with $1,339 at signing. Its effective cost? $346/month.
That's $66/month less than the 2019 model. Over the course of the lease, that's a savings of $2,376. So why is this the case?
Both offers are for the same trim, the same lease term, and assume an "ultra-low" mileage allowance of 10,000 miles a year. Based on our analysis, the answer lies in the underlying residual values.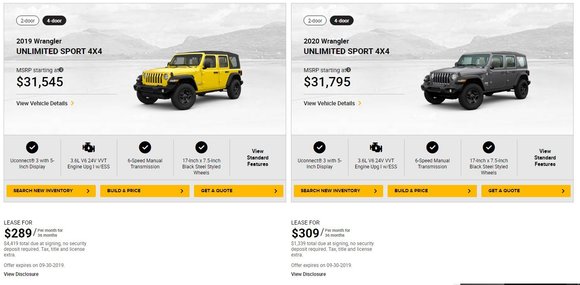 According to a leasing guide sent to dealers, the 2019 Wrangler Unlimited Sport has a 36-month residual value of 69%. The 2020 model is listed at 77%. Unlike nearly every other Jeep, there are no factory lease cash incentives to help drive down prices.
Having said all that, shoppers may find it a confusing time to buy.
An aggressive selldown of 2018 Wrangler inventory resulted in some dealers discounting vehicles by up to $10,000, with the brand resorting to tactics like mailing out $1,000 coupons. Meanwhile, lease prices for the new Gladiator pickup have gone up instead of becoming more affordable.
Since prices can vary dealer to dealer, we recommend comparing prices carefully. If you're planning to lease, consider a 2020 model. You may find yourself able to get a much better deal under the right set of circumstances if you're picking one up this fall.