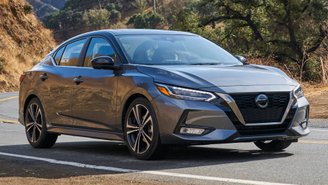 Nissan's two newest cars, the 2020 Versa and 2020 Sentra, both promise small car shoppers a big boost in features & refinement compared to their predecessors. However, our analysis finds that one is shaping up to be a much better value than the other when leased. Here's what you need to know.
The Versa, once America's cheapest car, now starts at $17,325 with the optional CVT. Meanwhile, the new Sentra starts at $20,015, offering a decent step up in power (149 hp vs. 122), comparable fuel economy (33 mpg vs. 35), and advantages in both passenger room (96 cu. ft vs. 89) and rear legroom (34.7" vs. 31").
Although most shoppers may expect to "pay more to get more", that's not necessarily the case when leasing. For example, Nissan's online payment estimator lists the Versa S at $327 for 36 months with $327 due at signing on a 12,000 mile/year lease here in Los Angeles. The Sentra S is listed at $267 with $267 at signing.
So why is the Sentra so much cheaper to lease?
According to a manufacturer incentive bulletin, the discount for leasing the Sentra is worth more than twice that of the Versa ($1,025 vs. $500). The Sentra also manages to have a much higher residual value (56% vs. 43), plus a big advantage when it comes to the underlying interest rate (1.2% vs. 5.7).
Frankly, this isn't all that surprising to us. Last year, we noticed that the new Versa could be more expensive to lease than an Altima. We also found that the new Sentra could be cheaper than the outgoing version. Despite being a new arrival, our analysis finds that the new Sentra is already one of the cheapest cars to lease.
Depending on your priorities, current offers could make the Sentra the smarter choice. That said, those looking to buy rather than lease may find the Versa a better value. Apart from a lower sticker price, all versions are eligible for $1,000 in savings when buying compared to just a $750 rebate on the Sentra.