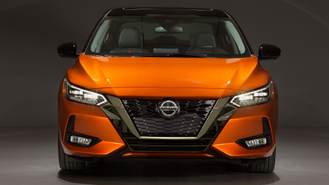 The redesigned Nissan Sentra is starting to make its way to dealer lots, promising more power, better handling, and sharp looks that could get it mistaken for a much pricier car. Interestingly, our analysis finds that the car can actually be cheaper to lease than the outgoing generation ahead of the Presidents' Day holiday.
Here in California, the 2020 Sentra SV is being advertised at just $169 for 36 months with $2,249 due at signing, which equates to an effective cost of $232/month before taxes & fees. At the same time, the 2019 Sentra SV is listed at $139 for 36 months with $3,939 at signing, which comes out to $248/month.
Both offers reflect a $500 loyalty discount that you can only get when coming from another Nissan. However, even without the discount, the all-new Sentra manages to be $16/month cheaper to lease than the outgoing generation that has essentially seen minimal changes since it was introduced back in 2013.
So why is this the case?
According to a dealer incentive bulletin, the 2020 Sentra (above) is already eligible for a $1,025 leasing bonus. While that's less than the $1,975 discount on 2019 Sentras (below), the new car has an 18% advantage in residual value. Its interest rate is also equivalent to 1.2% APR, slightly above the 0% rate of the older car.
Believe it or not, the new Sentra already ranks as one of the cheapest leases on a small car. While the 2020 Hyundai Elantra is currently one of the best deals in the segment, the Sentra manages to be less expensive than cars like the 2019 Honda Fit LX, which doesn't come standard with automatic emergency braking.
Quirks like these can turn conventional wisdom on its head for consumers. The oldest cars on the lot may not offer the best value, particularly when leased. While there are certainly deals to be had for Presidents' Day, new car shoppers should be sure to consider their options carefully before making a decision.
Current offers end March 2.
Build & Price Your 2020 Sentra »