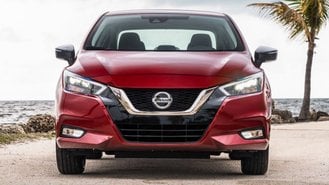 Although the redesigned Nissan Versa is no longer the cheapest car in America, improvements in refinement & technology for 2020 have made it a much better vehicle. However, consumers looking to lease one may be in for a surprise this month because the car can actually cost $1 more to take home than an Altima.
Here in Southern California, the 2020 Versa SV is advertised at $219 for 36 months with $3,199 due at signing. That's based on an MSRP of $18,980 and equates to an effective cost of $308/month. Meanwhile, the 2020 Altima S is listed at $199 for 36 month with $3,899 at signing. Its effective cost? $307.
So why is the Versa $1 more expensive to lease than an Altima despite a difference in MSRP of over $6,400?
As usual, the answer lies in what's happening behind the scenes.
According to dealer incentive bulletins, the Altima benefits from a higher residual value, a $550 lease incentive, and an interest rate equivalent to 0% APR. In contrast, the Versa has no lease discount, a residual around 7% lower than the Altima, and a rate of 2.2% APR.
At over $300/month, shoppers looking to get more car for their money will find far better values in many of this month's promotions ahead of Black Friday. In some cases, there are even stellar deals to be had on vehicles much larger and traditionally more expensive on paper.
For example, the 2020 Hyundai Santa Fe SE has an MSRP of $26,995 but is $11 cheaper to lease than the Versa. This month's featured deal is $219 for 36 months with $2,799 at signing, an effective cost of $297. At that price, the Santa Fe is one of the best deals right now.
Offers vary by region, examples based on a Los Angeles location