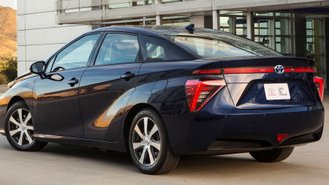 Not long after we learned that the 2021 Mirai will debut with a $10,000 discount, a dealer incentive bulletin has revealed a whopping $32,000 rebate plus 0% financing on the 2020 Mirai. In some cases, a long list of incentives may even allow buyers to achieve a level of savings that approaches the car's $59,000 MSRP.
While the Mirai is still only sold in California, those looking to buy can access a $32,000 APR Credit when taking out a loan through Toyota Financial. Although you won't see it advertised, the incentive can be combined with 0% financing for 72 months. That makes this the largest single discount of any vehicle on the market.
But that's not all. In California, the Clean Vehicle Rebate (CVRP) offers $4,500 in additional savings. As before, Toyota is offering a hydrogen refueling credit worth up to $15,000. That's $51,500 in potential value plus no interest for 6 years. For reference purposes, the Mirai's MSRP starts at $59,545 including destination.
Sadly, local inventory data suggests the Mirai has practically sold out at this point. If you can still manage to find one, buying one will likely present a better value than leasing. That's because Toyota's discount for leasing is worth just $8,000 in Northern California and $7,750 in Southern California (vs. $32,000 for buying).
Fortunately, the 2021 Mirai is shaping up to be a compelling deal. In addition to sleeker styling, the car is $9,000 cheaper than the previous year. As we reported last week, Toyota is even offering 0% APR for 60 months plus a $10,000 APR Credit. That's quite aggressive for an all-new fuel cell electric vehicle (FCEV).
According to Toyota spokesperson Nicky Hamila, the Mirai has managed to remain eligible for an $8,000 hydrogen tax credit. While Toyota certainly isn't giving away cars for free this month, we can't help wondering if $51,500 in savings plus the tax credit could theoretically exceed the car's MSRP ($59,500 vs. $59,545).
However, with virtually no cars left to buy, this could all really just be a moot point.
Current Toyota offers will end on February 1, 2021.