Discounts on Toyota's most expensive car have doubled in April. According to dealer incentive bulletins in a dozen regions, the Toyota Supra now features a hidden dealer cash incentive worth $2,000. In addition, Toyota has introduced the car's first-ever financing and lease deals.
Here's what you need to know.
In most parts of the country, dealers are now being given a $2,000 incentive to help lower prices for the 2020 Supra ahead of a major refresh for 2021. Offers on the 2-door coupe first emerged a month ago with a smaller $1,000 incentive. Now, we're also seeing offers in some states for financing and leasing.
For example, those in the Southeast will find 2.9% APR for 60 months plus a 72-month option at 3.49%. Both qualify for no payments for 90 days as part of the automaker's incentive to help consumers amidst COVID-19. Based on our analysis, this can equate to substantial savings when it comes to interest.
On a $50,000 car, a 5-year loan at 5% would cost $6,614 in interest at $944/month before taxes & fees. The latest offer cuts the interest cost to $3,773 at $896/month. It may not be as dramatic as 0% APR for 84 months from Ford, but Toyota has taken a conservative approach to COVID-19 offers.
Supra leases are a mixed bag.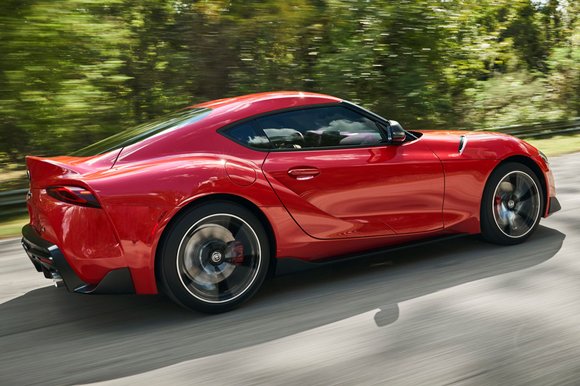 In the Southeast, the 3-liter Premium trim is listed at $579 for 36 months with $3,878 at signing, an effective cost of $687/month. That's based on an MSRP of $53,990, which unfortunately doesn't include a $955 destination charge. The offer comes with an allowance of 12,000 miles per year.
In New York, the automaker is advertising a $609/month lease with $4,999 at signing. That comes out to $748/month, $61 more than the deal in places like Florida. However, a closer look reveals some quirks like a higher MSRP of $56,140 and a shorter allowance of just 10,000 miles per year.
Curiously, Toyota doesn't offer any transparency online as far as what consumers will get for over $56,000.
All Supras come with the same engine, but our analysis finds that the configuration in question is most likely the Premium with optional Driver Assist Package. Unlike other Toyotas, Supra buyers have to pay extra for features like adaptive cruise control and a blind spot monitor since the car was developed with BMW.
Having said all that, shoppers will have to contend with rapidly-changing restrictions as far as social distancing and even determining whether dealers are open or closed amid COVID-19. Fortunately, some offer online buying options and home delivery. Be sure to check with local dealers to explore your options.
Current offers end May 4.