BMW has quietly added a more affordable version of the 2-Series Gran Coupe with front-wheel drive for 2021. According to data from BMW order guides, the all-new 228i sDrive Gran Coupe will be priced $2,000 lower than the all-wheel-drive model and will become the automaker's most affordable car here in the U.S.
Since its introduction earlier this year, the Gran Coupe has only been available with all-wheel-drive at an MSRP of $38,495 with destination. For 2021, a new variant called the 228i sDrive Gran Coupe will start at $36,695, a full $2,000 lower than the latest all-wheel-drive configuration (which starts at $38,695 for 2021).
At that price, the sDrive Gran Coupe will be the brand's cheapest car. Like the all-wheel-drive version, power will come from a 228-hp turbocharged engine with 258 lb-ft of torque paired to an 8-speed automatic transmission. The EPA says FWD will offer a 1 mpg advantage in overall fuel economy (28 mpg vs. 27).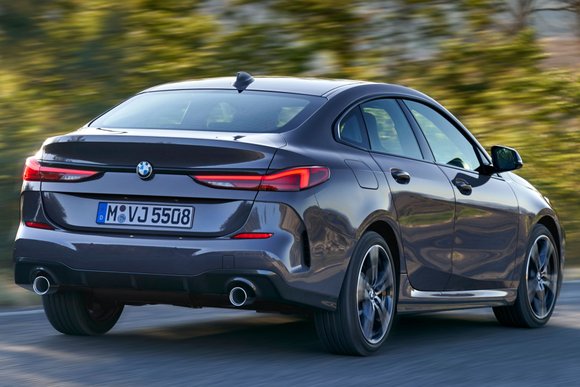 That said, the 2021 BMW X1 will technically remain the brand's cheapest model by $300 with an MSRP of $36,395. However, the Gran Coupe does come with standard features like navigation, LED headlights, power-folding mirrors, and more; in the X1, features like these can easily drive the price past $40,000.
With a cheaper option for buyers, the Gran Coupe could be a more compelling deal compared to the Mercedes-Benz CLA. For 2021, the CLA starts at $38,900, just over $2,200 higher than the Gran Coupe. Although the CLA started as Mercedes' most-affordable model, pricing rose considerably with last year's redesign.
It's also worth considering that the FWD Gran Coupe could appeal to shoppers who may have had a hard time justifying paying a premium for AWD. It could also create a dilemma for bargain hunters weighing whether or not to take advantage of year-end deals on a mix of both 2020 & 2021 luxury car inventory.
Those looking for a deal should be aware that 2020 2-Series Gran Coupes feature 0.9% financing for 60 months plus an APR Credit of $2,000 here in California. At the same time, the 2021 Lexus IS offers 0% APR and up to a $700 complimentary lease payment, while Acura's new TLX has already slashed lease prices.
BMW has aggressively pursued shoppers with cheaper lease payments featuring 7,500 mile-per-year deals. While this is shaping up to be part of a broader trend among both mainstream & luxury automakers, it appears clear that BMW may be poised to boost market share among entry-level buyers in the coming year.
Pictured: 2020 2-Series Gran Coupe
Editor's Note: We've updated this article to make a better comparison with the latest version of the CLA.