Cadillac's newest and biggest vehicle might be a better deal than you think. In fact, our analysis finds that the redesigned 2021 Escalade can be as little as $10/month more expensive to lease than the outgoing model. That could be surprising for those looking to get the most for their money on a full-size luxury SUV.
Now that the 2021 Escalade is arriving at dealers, Cadillac's online payment estimator says you can lease a 2WD Luxury trim from $881 for 36 months with $7,080 due at signing. The offer is based on an MSRP of $77,490, 10,000 miles/year of driving, and translates to an effective cost of $1,078/month before taxes & fees.
Believe it or not, that's just $10 more than what the same website shows for the 2020 Escalade. If you look at the same trim, it's listed at $862 for 36 months with $7,429 at signing, which comes out to $1,068/month (screenshots of both are shown below). So why is there such a small difference in price?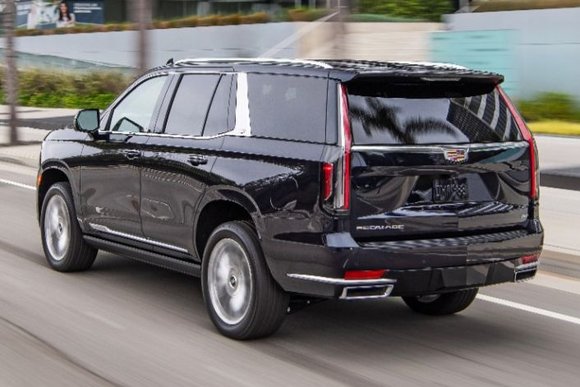 According to data from dealer incentive bulletins, the 2020 Escalade listed above is eligible for a $3,250 lease incentive here in California and a rate equivalent to just above 0% APR. Meanwhile, the offer on the redesign features no such lease incentive and is based on a rate of around 5% APR. So what's the key difference?
Based on our analysis, the 2021 Escalade in this comparison has a much higher residual value of 65% compared to just 52% for the 2020 model. Residuals can be an important factor in determining whether a vehicle is good to lease. In this particular scenario, it appears opting for the redesign can have a major advantage.
There's also the fact that packaging for the 2021 model is a bit different in order to help bring the Escalade closer in line with the rest of the lineup. For example, Cadillac is no longer selling a "base" trim and the new Luxury model has a $4,600 advantage in MSRP compared to the previous year ($77,490 vs. $82,090).
That said, lease prices may vary based on real-world demand and availability. In addition, deals for buying the 2020 Escalade are a lot better with up to $9,500 in savings, one of the largest rebates on any SUV. As we've reported before, some Escalade owners may also qualify for substantial loyalty discounts.
Current offers end November 2.
Explore This Month's Cheapest Luxury Car Leases »