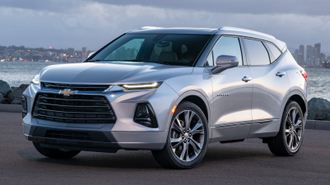 Affordable leases are nothing new for the Chevrolet Blazer but opting for a more expensive trim can lead to a better deal this month. Interestingly, the 2021 Blazer 2LT V6 is cheaper to lease than the 1LT 4-cylinder model despite being $1,300 more expensive and coming more well-equipped.
The 2021 Blazer 1LT, which starts at $33,495 (including destination fees), is available from $229/month for 36 months with $1,659 due at signing, leading to an effective monthly cost of $275. The 2021 Blazer 2LT V6 has a price tag of $34,795 and starts at $229/month for 36 months with $1,609 due at signing for an effective monthly cost of $274. Both leases come with a 10,000 mile per year allowance.
According to dealer lease documents, a much lower money factor on the V6 model is the reason behind the affordable offer. The 2LT V6 has an interest rate equal to 3.36% APR. The interest rate on the 1LT is over double that with a 7.44% APR equivalent. Residual value percentages are comparable on both trims.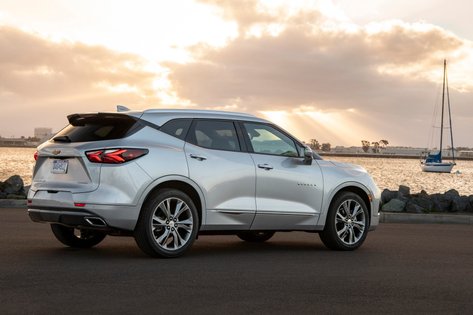 To most buyers, opting for the 2LT V6 is the clear choice. While there's only a $1 difference in effective monthly cost, the V6 provides much more for the money in terms of performance and features. The V6 engine is good for 308 horsepower and 270 lb-ft of torque with fuel efficiency numbers of 20 miles per gallon city, 27 mpg highway, and 22 combined. Compare that to the much less powerful 4-cylinder with 193 horsepower and 188 lb-ft of torque that's good for just slightly better efficiency at 21/27/23 mpg (city/highway/combined). Additionally, the 2LT comes with standard safety features like automatic emergency braking and forward collision warning, which are not available on the 1LT.
For those who prefer to purchase, current Chevy offers on the Blazer are strong as well. The midsize SUV features 0% APR for 72 months which can be combined with a $2,150 down payment assistance and a $1,250 conquest bonus for those coming from a competing brand, leading to a total of $3,400 in savings. In lieu of promotional financing, a $3,500 rebate is available plus the $1,250 conquest bonus for eligible buyers.
Although uncommon, seeing a higher trim with a better lease deal than a lower trim isn't too surprising. Chevy was offering a similar deal on the 2021 Camaro in December, which has since been enhanced.
Current offers are available nationally through March 31.