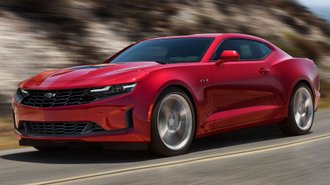 Leasing a power-packed V8 Camaro could be surprisingly affordable this month if you're planning to lease. Based on our analysis, current Chevy incentives can actually make the high-performance LT1 cheaper to lease than the turbocharged 1LT despite an $8,600 difference in MSRP. Here's what you need to know.
This month, the 2021 Camaro LT1 Coupe is listed at $287 for 39 months with $287 due at signing. That's based on an MSRP of $36,590 with destination and an allowance of 10,000 miles per year. Factoring both the payment and amount at signing, that translates to an effective cost of just $294/month before taxes & fees.
Curiously, that's actually cheaper than the brand's featured lease on the more affordable 1LT (MSRP $27,990). Even though it's $8,600 less expensive on paper, different incentives make the 1LT more expensive. According to a dealer leasing bulletin, it's listed at $299 for 39 months with $989 at signing, or $324/month.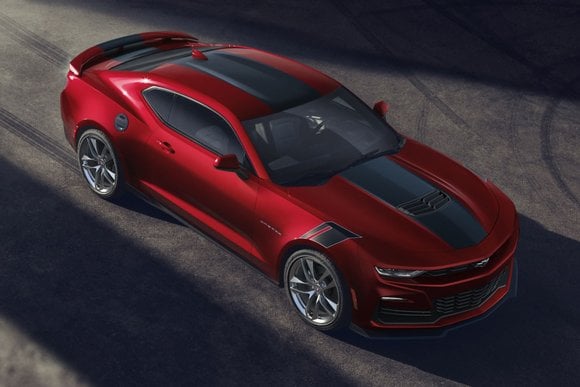 The trims may sound confusingly similar but they're actually quite different. The LT1 comes with a 6.2L V8 rated at 455 hp and 455 lb-ft of torque versus the 2.0L turbo in the 1LT that makes 275-hp with 295 lb-ft. The LT1 also adds 20" wheels, Brembo front brakes, an SS-style hood, external engine oil cooler, and more.
So why the difference in price? The answer is in the details that aren't being advertised. Although both deals reflect the same $1,500 discount for coming from another lease, the LT1 features a significantly lower interest rate of 0.67% (vs. 3.72% for the 1LT). The LT1 also has a higher residual value of 64% (vs. 57% for the 1LT).
We think shoppers will probably like being able to get a lot more car for less cash. However, it's important to note that those not coming from another GM lease or that of a competitor may find themselves making up for the $1,500 incentive that Chevy is including in its prices. Still, this presents a great opportunity to upgrade.
The Camaro recently made headlines after it was reported that the SS and ZL1 variants ran afoul of environmental regulations in the states of California and Washington. While that doesn't affect cars already in stock at dealers, there is a possibility that V8 Camaros could become harder to find in those regions.
Current Chevy offers are set to end on January 4, 2021. Leases listed above are available nationally and include the cost of an automatic transmission. Actual prices are set by dealers based on market demand and buyers may need above-average credit to qualify for the best rates.