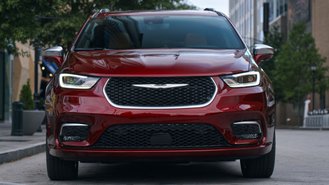 Chrysler's most-expensive minivan already features a massive discount after less than a month on the market. In most parts of the country, the Chrysler Pacifica Pinnacle offers buyers as much as a $5,000 discount or a combination of 0% APR plus a cash bonus. Here's how you can probably save the most money.
This month, the Pinnacle offers a national incentive of $5,000 off based on a $2,000 rebate with a $3,000 bonus. Alternatively, buyers can choose 0% financing for 60 months plus the $3,000 bonus. The offers could help make a dent in the pricey family hauler's MSRP of $52,290 with destination ($54,885 with all-wheel-drive).
Big discounts on the Pacifica aren't unusual. After all, the brand has been practically offering Chrysler Employee Pricing on 2020 Pacificas for the larger part of the past year. That said, the 2021 Pacifica is still relatively new, offering a noticeable styling refresh with a wide range of driver assistance technology.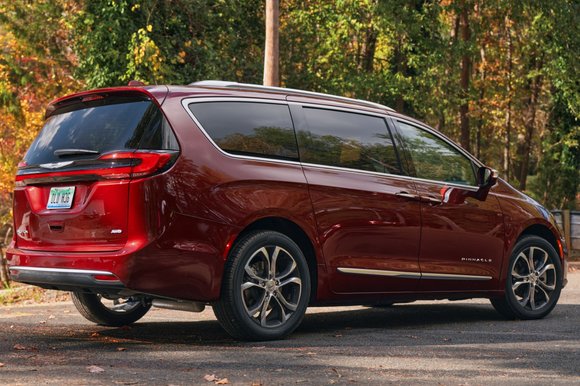 The Pinnacle trim began arriving in December and comes with high-end features like quilted Nappa Caramel leather seats, a suede headliner, quilted lumbar support pillows, Berber-style floormats, Platinum Chrome wheels, and a claimed best-in-class storage capacity of 227.6 liters with the help of second-row bins in the floor.
So is a $5,000 discount really a good deal? On one hand, that's a 9.5% discount off MSRP. It's also 5x more than the $1,000 rebate you'll find on the 2021 Toyota Sienna this month in many parts of the country. Having said that, we think financing the Pinnacle could be a far more appealing value out of this month's options.
On a $52,000 vehicle, a 5-year loan at 4% APR with the rebate would cost $51,935 at $866/month before taxes & fees. In contrast, taking the 0% APR offer would come out to $49,000 at $817/month. That's just over a $2,900 difference in cost over the course of the loan, with a lower monthly payment to boot.
Still, we think the odds are pretty good that Chrysler could introduce Employee Pricing on 2021 Pacificas at some point. Given the fact that the outgoing model is being advertised with over $7,100 in potential savings or 0% for 72 months, waiting could make sense on a model this expensive for those with time on their side.
Most Chrysler offers end on February 1, 2021.