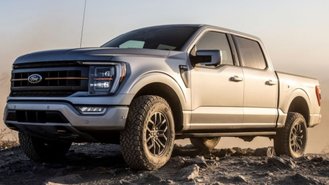 With more 2021 F-150s arriving at dealers by the day, it's becoming apparent that the all-new truck's first lease deals can be awfully expensive. In fact, our analysis finds that the brand's flagship pickup can be over $300/month more expensive than its nearest competitor and cost more than $1,000 at the top of the range.
Although initial rebates and hidden discounts revealed ways to save on Ford's newest truck, early signs about the cost of leasing have proven correct. Even though the redesigned F-150 starts at $30,635 with destination for the entry-level XL model, Ford's online payment calculator doesn't even offer a lease estimate until you step up to a well-equipped Lariat trim ($46,390). From that point, your only other choices at present are the King Ranch, Platinum, and Limited.
Here in California, the cheapest 36-month F-150 lease you'll find on the brand's website starts at $566 for 36 months with $5,205 at signing for the Lariat 4x2 Super Cab with 2.7L V6. That's based on 10,500 miles a year and equates to an effective cost of $711/month before taxes & fees. Meanwhile, a bulletin sent to Chevy dealers reveals you can lease a V8-powered 2021 Silverado RST 4x4 with Z71 Package ($51,060) from $349 for 39 months with $1,879 at signing.
That comes out to $397, $314 (per month!) less than the Lariat.
While this isn't exactly an apples-to-apples comparison (the Chevy deal is based on 10,000 miles a year and includes a $1,500 discount you can only get when coming from another lease), it does reveal a big difference in terms of affordability during a period of economic uncertainty amid the coronavirus pandemic.
Further up the range, the F-150 Limited 4x2 SuperCrew with 3.5L EcoBoost V6 can be leased from $855 for 36 months with $8,107 at signing. That comes out to $1,080/month. And that's before considering the cost of any dealer add-ons. While the truck does have an MSRP of $72,520, this represents a terrible deal.
It's important to note that lease prices may vary depending on real-world selling prices and the incentives you're eligible for. Having said that, early interest rates as high as 8% and a complete lack of lease cash appear to be major contributors to the F-150's lousy prices. That could make buying a more appealing option.
Although Ford's flagship truck seems to be more expensive than ever, early incentives like a 90-day payment deferral may have sparked interest among early buyers. Given the fact that GM has brought back crazy APR deals and 2021 truck rebates have been surprisingly good, it may not be long until prices improve.
Most current Ford offers end on March 31, 2021.