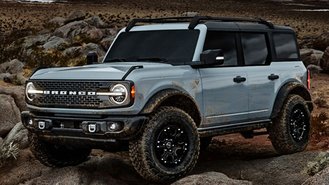 If you're on the fence about which Ford Bronco to buy, we found a quirk that could enable shoppers to potentially get a better bang for their buck. Based on our analysis of Ford's latest residual values, the 4-door Bronco can actually end up being cheaper to lease than the 2-door model despite a big difference in MSRP.
As we reported recently, the 2021 Bronco has higher residual values than the Jeep Wrangler. Like its chief rival, a closer look finds that the 4-door has a distinct advantage over the 2-door when it comes to residuals. In the case of the Bronco, that difference can be as high as 7% in favor of the 4-door configuration.
For example, Ford's online payment estimator lists the 2-door Big Bend with automatic transmission at $421 for 36 months with $4,069 due at signing based on an MSRP of $36,475 and 10,500 miles per year. When you factor the payment and amount at signing, the effective monthly cost comes out to $534 before taxes & fees.
That's $35/month more than the 4-door version of the same SUV. Despite an MSRP of $38,970, the 4-door is listed at $380 for 36 months with $4,277 at signing, or $499/month. Here, the 4-door's 36-month residual of 72% helps make it a better deal than the 2-door (65%). Screenshots of both offers can be found below.
This isn't going to be the case across the board. For example, a narrower gap in residuals for the entry-level Bronco Base can make the cheapest 4-door configuration $15 more expensive than the 2-door. Having said that, we still consider the 4-door to be a better value given the $4,700 difference in MSRP.
It's important to keep in mind that these are merely Ford's estimates and choosing a different lease term, configuration, or mileage allowance could affect the final outcome. However, there are clearly factors at play that could make it easier for a consumer to justify upgrading, especially if it can save them some money.
High residuals appear to be helping offset the fact that Bronco lease rates are awful at over 6%. As we noted earlier this week, this can enable the upcoming SUV to undercut the Bronco Sport. Considering there are no APR deals and Broncos are excluded from Ford Plan Pricing, leasing could look pretty appealing.
Unfortunately, the prospect of dealer markups could throw some of these estimates into doubt. After all, some dealers are still marking-up the smaller Bronco Sport by up to $10,000. Depending on real-world prices, shoppers' experiences could vary considerably. We recommend comparing your options carefully.
Current Ford offers end on March 31, 2021. Stay tuned for our special Presidents' Day deal coverage next month.
Editor's Note: An earlier version of this article used Ford's default figures for the Big Bend based on a manual transmission. We have since updated those numbers and associated screenshots to reflect the automatic since we believe those will be more useful to the average shopper.
2021 Bronco Big Bend 2-Door Lease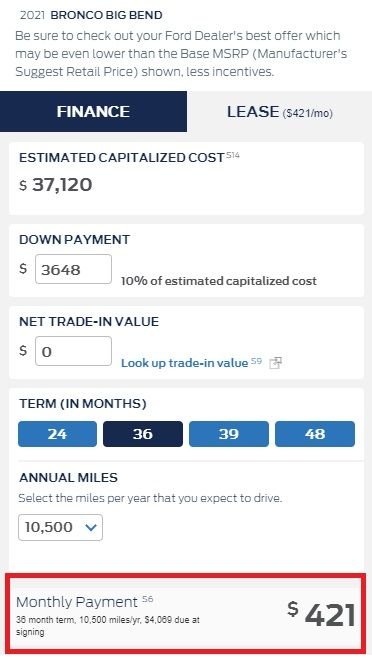 2021 Bronco Big Bend 4-Door Lease