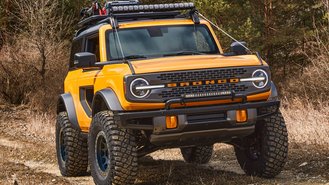 Although it took Ford less than a day to begin offering 0% APR on the Bronco Sport, financing the upcoming Bronco could be considerably more expensive. While the models may share similar names, dealer incentive bulletins show that financing rates are completely different and could significantly impact the cost to buy.
To start, 2021 Broncos feature no special rates whatsoever. According to Ford's online payment estimator, the cheapest 2-door Bronco (MSRP $29,995 with destination) is listed at $510 for 60 months based on a down payment of $3,000 (10%). With $0 down, the payment comes out to $567 before taxes & fees.
Opting for the 4-door (MSRP $34,695) results in a payment of $590/month with 10% down ($3,470), or $655 with a zero-down purchase. The figures are all based on Ford's standard estimated rate of 5% APR. In the case of the 4-door model, this can translate to $4,589 in interest on a 5-year loan with zero down.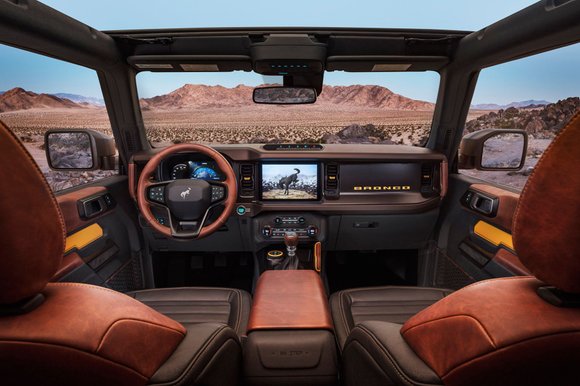 To be fair, the lack of deals on a highly-anticipated SUV like the Bronco isn't all that surprising. However, that certainly didn't stop Ford from introducing 0% APR on the Bronco Sport less than a day after its big reveal last summer. Most recently, the Bronco Sport gained a special rebate that can be stacked with 0% APR.
Even the all-new Mustang Mach-E began offering 0.9% financing out of the gate and offers up to $11,000 in plug-in incentives. So what makes the Bronco different? It could have something to do with the fact that dealers have been amassing thousands of reservations, with reports claiming as much as an 18-month wait.
Clearly, the Bronco and Bronco Sport are two very different vehicles with very different incentives as a result. Given some of the extreme pricing volatility that we've been seeing with dealer markups on the Bronco Sport, finding the best possible deal could be a lot less straightforward than a comparison shopper might think.
For example, the Bronco Sport debuted with an 84-month financing option at 5.9% APR. The Bronco has no such incentive. Interestingly, awful lease rates on the Bronco are basically being offset by better residual values than the Bronco Sport. In some cases, shoppers may actually find the Bronco to be cheaper to lease.
Offers could certainly change over time, especially leading up to the Bronco's expected arrival this summer. That said, Ford appears to be taking a completely different approach at this early stage, and we think some of these quirks could potentially make it harder for consumers to decide whether to buy or lease.
Current Ford offers end on March 31, 2021.