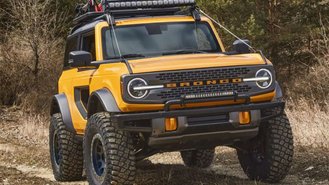 While the all-new Bronco still isn't due to arrive until this summer, Ford has released the rugged SUV's first lease rates. Based on incentive bulletins sent to dealers this week, our analysis finds that lease rates for the upcoming SUV could make it prohibitively expensive and compel some consumers to buy rather than lease.
To start, all 2021 Broncos feature a 36-month money factor equivalent to 6.29% APR. To put that into perspective, that's more than double the 2.95% lease rate you'll find on the Bronco Sport crossover on sale now. While Ford offers can often vary by region, we're seeing the same rates for the Bronco in over a dozen cities.
And that's all assuming you have top-tier credit. If you don't, Ford Credit will still lease you a Bronco but at an even higher rate of up to 11.67%. The highest rate we're seeing on the Bronco is 13.04% for lower-credit applicants on a 24-month lease. That could have a serious effect when it comes to the SUV's affordability.
Here are Bronco lease rates for all available terms based on excellent credit:
24 months: 6.27%
36 months: 6.29%
39 months: 6.39%
48 months: 6.15%
To be fair, the Bronco is a highly-anticipated model that Ford has been racking up reservations for since last summer. It's also worth noting that we don't yet have a full picture of what consumers can expect in terms of residual values and discounts. For now, the outlook certainly doesn't look good for potential lessees.
Given the fact that the Bronco will be a hot commodity, it's likely that there will be little room for negotiation. Coupled with a lousy lease rate, early adopters are poised to pay a hefty premium. Considering its waiting list is said to entail as much an 18-month wait, consumers may not have much of a choice but to pay up.
Thinking of "downgrading" to a Bronco Sport? You may be disappointed. Even though Ford recently began offering rebates, early Bronco Sport leases are a mixed bag because of a quirk in residual values. There's also the fact that some dealers are selling it with as much as a $10,000 markup due to early demand.
Incentives for buying a Bronco are still unknown. We haven't seen any signs of rebates or low-interest financing (and don't expect to). To put that into perspective, FCA has occasionally introduced Employee Pricing as well as 0% financing on Wranglers with over $5,000 in advertised savings at times over the past year.
Current Ford offers end on March 31, 2021.