The upcoming Ford Bronco could end up being a better deal than its lower-priced counterpart, the Bronco Sport. Based on our analysis of unadvertised dealer incentive bulletins and recent changes on the brand's own website, the Bronco could be up to $30/month cheaper to lease despite a $6,000 difference in MSRP.
Ford's online payment estimator currently lists the 4-door 2021 Bronco Base at $314 for 36 months with $3,784 due at signing (screenshot below, details highlighted in red). That's based on an MSRP of $34,695 with destination and 10,500 miles per year. Its effective cost to lease comes out to $419/month before taxes & fees.
That's actually less than the brand's cheapest estimated lease on the 2021 Bronco Sport Base (screenshot for that is below). It's listed at $360 for 36 months with $3,192 at signing based on an MSRP of $28,315 and comes out to $449/month. That's $30 more than the Bronco despite a $6,380 difference in MSRP.
While the two vehicles share similar-sounding names, they're actually very different. The Bronco Sport began arriving at dealers late last year and has a lot in common with the Escape crossover. In contrast, the Bronco isn't due to arrive until this summer and is more akin to a Jeep Wrangler in terms of capability.
If you're skeptical about being able to spend less cash to lease an SUV that's more expensive, we won't blame you. After all, we literally just declared that the Bronco's lease rates are awful at over 6%. That said, the Bronco does have a significant advantage when it comes to Ford's underlying residual values.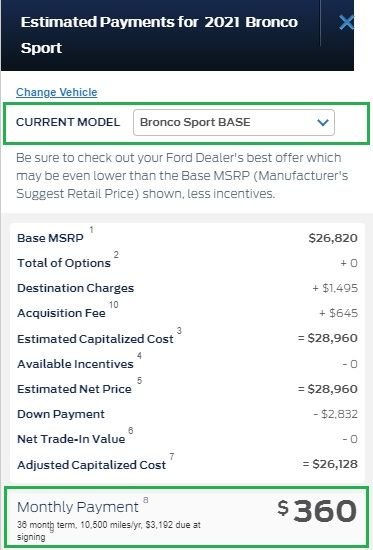 According to Ford's residual value guide, the 4-door Bronco Base has a 36-month, 10,500-mile residual of 75%. Meanwhile, the cheapest Bronco Sport comes in at just 53%. We've actually seen similar quirks before from Jeep that have occasionally helped make the pricey Wrangler cheaper to lease than the Renegade.
So can you legitimately lease a Bronco for less than a Bronco Sport? Calculators don't reflect factors like market demand, like how dealers are marking-up Bronco Sports by as much as $10,000. At the same time, Ford has been racking up thousands of Bronco reservations and reports claim as much as an 18-month wait.
While lease residuals can vary depending on variables like the trim, term, and mileage, Ford's initial estimates do signal a hidden opportunity for consumers. If you can manage to avoid a dealer markup, the Bronco could be a better SUV to lease than we originally suspected, especially when compared to the Bronco Sport.
Current Ford offers end on March 31, 2021.