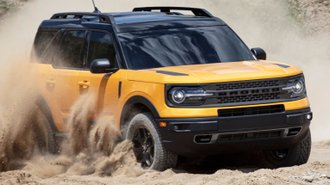 Ford is increasing the cost of financing the all-new Bronco Sport less than a month after rolling out an introductory 0% APR deal. As a result, the difference in financing rate could cause early adopters to pay quite a bit more money when purchasing.
According to an incentive bulletin sent to dealers today, Ford Credit is raising its 48-month rate on 2021 Bronco Sports from 0% APR to 0.9%. All other rates remain unchanged, such as a 60 month loan at 1.9% APR and a 72-month option at 3.9%.
Unfortunately, this does result in a price increase in the cost of buying a Bronco Sport with a 4-year loan. In the case of the $40,000 First Edition, the difference translates to approximately $739 in interest and a $16 increase in monthly payment.
Although you can still get 0% financing, but the term is now limited to just 36 months. In the case of the First Edition, this has effectively raised the payment on an interest-free loan from $833 to $1,111. That's an increase of $278... per month.
That said, we think the fact that there are any special offers at such an early stage to be pretty impressive. However, a narrower gap in cost between the 4- and 5-year loans could encourage more than a few buyers to choose the longer option.
With the first Bronco Sports not scheduled to arrive until sometime this fall, shoppers still have some time in which to decide. We're still not seeing any such offers yet on the larger 2021 Bronco (due next spring), but things could certainly change.
Along with interest-free financing, our analysis has found that Ford is already offering an 84-month financing option on Bronco Sports, as well as favorable residual values that could make the vehicle better to lease than other small SUVs.
Offers from Ford end on August 31. Stay tuned for our ongoing Labor Day deal coverage for continuous updates.