The new Bronco Sport may still be months away from arriving, but a newly-issued leasing guide sent to dealers reveals that residual values could make them better to lease than certain competitors. The development comes days after we learned that Bronco Sports will debut with 0% APR financing for those planning to buy.
In base form, the Bronco Sport is listed with a 36-month residual value of 50%. For reference, a 2020 Jeep Compass Sport with all-wheel-drive comes in at just 43%. Unsurprisingly, the Bronco Sport has a higher residual than a 2020 Ford Escape S (47%, AWD). These figures are based on an allowance of 15,000 miles per year.
Higher residual values typically translate to better leases. However, other factors can play an important role in determining whether a vehicle is good or bad to lease. These include things like the selling price, money factor (lease rate), and any leasing discounts. We aren't seeing any rebates, but we do know the interest rate.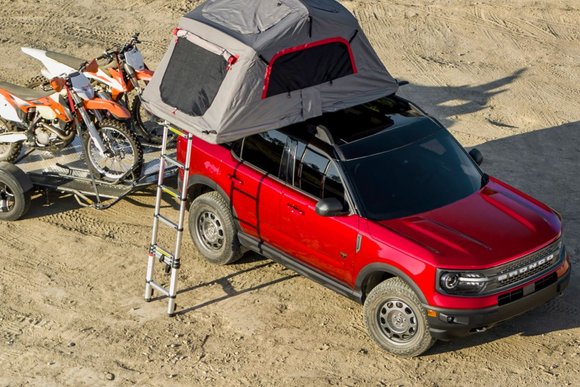 As we reported earlier this week, the Bronco Sport has an introductory lease rate equivalent to 4.6% APR. There are no advertised lease specials at the moment, but current incentives appear to heavily favor buying over leasing given that the Bronco Sport offers 0% financing for up to 48 months plus a new 84-month option.
That said, there are some important quirks worth knowing about. First, residual values vary depending on trim and assume an allowance of 15,000 miles per year. If you opt for a shorter lease, expect to see a higher residual value. For example, Ford's typical 10,500 mile-per-year leases will boost these figures by 3%.
Interestingly, the Big Bend trim (one level up from the base version) actually has the model's highest residual value of 53%. Oddly enough, the limited-production Bronco Sport First Edition, which ran out of reservation slots earlier this week, somehow manages to have the model's worst residual value of just 46%.
You can also skew a lot of these by tinkering with lease terms. For example, the Big Bend has a 24-month residual of 61%, and opting for a 10,500 mile-per-year lease can raise that to 64%. Based on the figures below, it certainly appears that the middle of the range may end up offering the best value when leasing.
Stay tuned for CarsDirect's ongoing coverage of Bronco Sport deals as information becomes available.
Bronco Sport Residual Values: 24 vs. 36 Months
| | | |
| --- | --- | --- |
| Trim | 24-Mo Residual | 36-mo Residual |
| Base | 58% | 50% |
| Big Bend | 61% | 53% |
| Outer Banks | 57% | 49% |
| Badlands | 60% | 52% |
| First Edition | 54% | 46% |
Notes:
Figures based on 15k mi/yr
Add 3% for 10,500 mi/yr leases