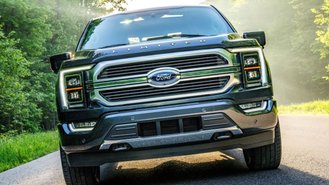 If you've been waiting for the right deal on the new F-150, you may want to wait a little bit longer. We compared lease deals with the Chevy Silverado and found that Ford's newest truck can be up to $241 per month more expensive to lease. This could make the Silverado seem like a downright steal to truck shoppers right now.
Here in Southern California, the 2021 F-150 is listed at $459 for 36 months with $4,499 at signing. That gets you an XL SuperCrew with the STX Package in a 4x2 configuration with the 2.7L EcoBoost engine. The offer is based on an estimated MSRP of $40,740, 10,500 miles per year, and has an effective cost of $584/month.
Meanwhile, Chevy's latest leasing bulletin lists the turbocharged 2021 Silverado Custom Crew Cab at $249 for 24 months with $2,259 at signing for an effective cost of $343/month based on an MSRP of $38,620. At that price, the Silverado is a whopping $241 cheaper to lease. That's an incredible difference in monthly cost.
Just to help put that into perspective, the cheapest car leases start at just $222/month, which means you could theoretically also lease a Nissan Sentra and still manage to spend less money than the F-150 in terms of monthly payments. While this is just for illustrative purposes, it certainly shows a big difference in value.
As always, there are some caveats. First, Ford's offer includes a $500 Select Inventory Bonus that you can only get on trucks that have been in stock for over 60 days. Second, Chevy's price factors $1,750 in incentives only available to those coming from a lease from either a GM brand or another automaker.
Believe it or not, you could potentially upgrade to a $51,000 Silverado RST and save money in the process. It's listed at $369 for 39 months with $2,669 at signing, or $437/month. That's $147 less than the F-150 and gets you a 4x4 Crew Cab with a V8 and the Z71 Package. So why is the F-150 so expensive to lease?
As we've reported previously, the truck's first leases were awfully expensive due to very high lease rates equivalent to as much as 8% APR. For reference, the deal on the RST is based on a relatively high residual value of 59%, a lease rate of 0.3%, and reflects $1,750 in manufacturer discounts available through March 1.
Some F-150s can be especially bad to lease. For example, we recently noticed that the low-priced F-150 Regular Cab is excluded from promotional rates and actually has the same lease rate as the upcoming F-150 Raptor. That could make it particularly difficult to find the best deal on the redesigned pickup.
Current Ford offers end March 31, 2021 and can vary by region.