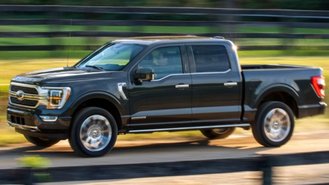 If you're looking to get the best possible deal on the 2021 Ford F-150, there may be a way to save as much as $4,000 off MSRP this month. We've uncovered a hidden deal that can potentially save buyers in California four times the $1,000 advertised rebate on XLT styles. However, there are a number of important catches worth knowing about.
First of all, this is a regional incentive that's only available in the Golden State. Second, the discount is only available on trucks in stock for 61 days or more. Unlike a traditional rebate, the deal in question is only available as what's known as a trade-in assistance bonus that you can only get when trading-in any 1999 or newer vehicle through May 3.
But that's not all. As we've found before with hidden equipment discounts on the redesigned F-150, the deal in question is entirely limited to XLT styles. That said, considering the fact that Ford's advertised rebate on the F-150 XLT is worth just $1,000, shoppers looking for a deal may be able to enjoy a good chunk of savings.
Sadly, F-150s remains a hot commodity and the odds of finding one that's been sitting around for that long could be increasingly difficult. It's also worth noting that a global semiconductor shortage has forced Ford and competitors to interrupt vehicle production. As we recently reported, this has caused prices to rise here in the U.S.
If you're looking to finance, you may be disappointed. Here in California, Ford's best rate on a 5-year loan is 4.9% APR. While the deal does come with $1,500 in bonus cash, GM is offering 0% APR for 72 months on both Silverados and Sierras. Still, Ford's offers are way better than what you'll find on a Toyota right now.