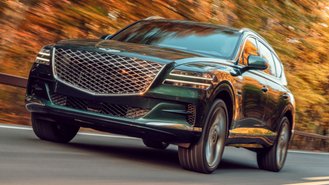 Genesis' first luxury SUV may be arriving late to the party but a handful of deals may get shoppers' attention. Although the brand hasn't started advertising offers yet for the 2021 GV80, a dealer incentive bulletin has given us a sneak peek at specials like a $589/month lease deal and low-interest financing for up to 72 months.
According to a letter sent to dealers yesterday, Genesis will begin offering GV80 incentives next week on November 3. Those looking to buy will find 1.9% APR for up to 60 months, with a 72-month option at 2.5%. With a $50,000 SUV, a 5-year loan at 1.9% potentially saves just over $4,100 in interest versus a loan at 5%.
You can also lease a GV80 from $589 for 36 months with $5,499 due at signing. That's based on an MSRP of $49,925, 10,000 miles per year, and equates to an effective cost of $742/month. To put that into perspective, that's over $100 (per month) less than current offers on the 2021 Mercedes-Benz GLE350 ($844).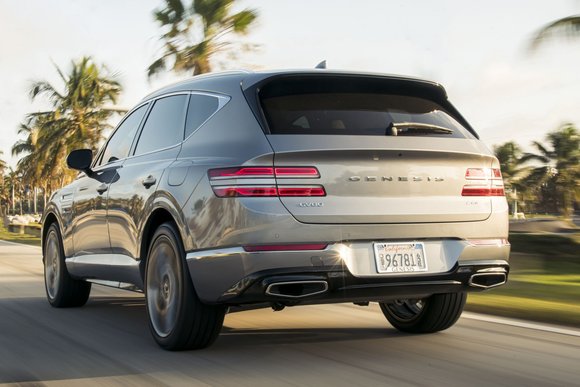 Those looking for more performance may find the optional 3.5T engine a better deal because it offers $1,000 in lease cash that you can't get with the 2.5T. The bigger engine also has a slightly lower interest rate equivalent to 4.1% APR (vs. 4.5%). You can lease one from $699/month with $5,499 due at signing.
So is the GV80 a good deal? That depends. Although it certainly isn't a cheap lease, it does substantially undercut competitors. Still, the lack of rebates could be disappointing considering BMW is offering up to $3,000 in incentives plus 0.9% financing on all remaining 2020 X5s as part of a model-year-end sale event.
Still, we think these are solid introductory offers. The 3.5T clearly offers a slight advantage with the extra $1,000 in lease cash on the base version and $750 in the case of the 3.5T Advanced. What remains to be seen is whether or not Genesis will introduce a loyalty discount or a conquest bonus for switching brands.
Interestingly, GV80 leases will start $50/month higher than the restyled 2021 G80 sedan. The G80 is listed at $539 for 36 months with the same amount at signing. That said, a closer look reveals that G80 leases will offer anywhere from $750 to as much as $2,250 in lease cash on some styles to help drive down the cost.
When the GV80 arrives this fall, it'll have some catching up to do. While it was one of our most-anticipated summer debuts, the SUV was delayed due to the pandemic. It will also face competitors with better deals. For example, 2020 Lincoln Aviators feature rates as low as 0% APR plus up to $3,000 here in California.
Offers for the GV80 will end on January 4, 2021. Stay tuned for possible changes for Black Friday.