Those looking to be among the first to lease the 2021 Elantra could be faced with a difficult decision ahead of Black Friday. That's because Hyundai's first lease on its newest car can actually be more expensive than the midsized Sonata. As a result, holiday shoppers may be able to get more for their money by upgrading.
Here in Los Angeles, the redesigned Elantra SE is listed at $179 for 36 months with $2,899 due at signing. Meanwhile, the 2020 Sonata SE is among the cheapest midsize cars you can lease at $159 for 36 months with $2,799 at signing. At those prices, the Sonata is $23/month less expensive despite having a higher MSRP.
Based on the numbers above, the Elantra has an effective lease cost of $260/month, while the Sonata comes out to $237. In the case of the 2021 Sonata, stepping up from the Elantra literally requires just an extra $10 to the monthly payment. This could make the brand's newest car a tough sell for shoppers in November.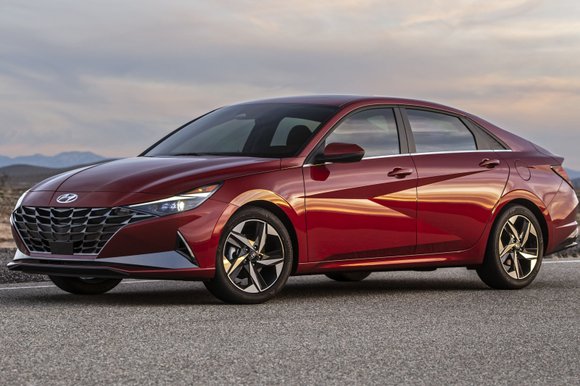 We're seeing multiple reasons why the Elantra is lousy to lease. According to a dealer lease bulletin, the offer in question includes $750 in lease cash and is based on a residual value of 59% and an interest rate of 2.7% APR. For comparison, the 2021 Sonata lease reflects a $1,500 incentive, 62% residual, and 2.5% APR.
Sadly, we think it's too early to recommend leasing the new Elantra. That said, it could just be a matter of time before we see better incentives. For reference, the 2020 Elantra is still available with a whopping $4,500 lease incentive and is among the few cars you can lease for an effective cost of under $200/month.
Interestingly, this isn't the only chance to upgrade if you're planning to lease in November. We recently found that better incentives can make a Nissan Murano cheaper to lease than the redesigned 2021 Rogue. We also learned that SUV shoppers can upgrade from a Toyota Venza to a Lexus NX for about the cost of a pizza.
Current Hyundai offers end on November 30. Stay tuned for our ongoing Black Friday deal coverage for possible updates.
Top Black Friday Car & SUV Deals »
2021 Elantra pictured