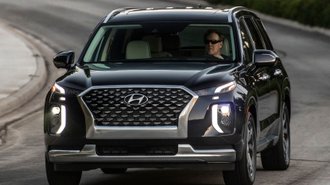 Update (12/21): A Hyundai spokesperson has confirmed the addition of a front-wheel-drive Palisade Calligraphy.
Hyundai is adding a slightly more affordable version of its most expensive SUV. According to a new order guide, the 2021 Palisade Calligraphy will soon add a front-wheel-drive option with a price tag $1,700 cheaper than the all-wheel-drive model. The change could broaden the appeal of the most luxurious Palisade to date.
As we reported this past summer, the range-topping Calligraphy trim was introduced with an MSRP of $48,890. While its price has ticked up to $48,925 following a $35 increase in destination charge, it offers features like a unique grille, quilted leather door panels, microsuede headliner, special 20-inch wheels, and more.
Although the Calligraphy was originally announced as an all-wheel-drive-only trim, a new front-wheel-drive version will arrive late to the party with an MSRP of $47,225. It'll come equipped with the exact same features but will lack some of the benefits of all-wheel-drive like Snow Mode and downhill brake control.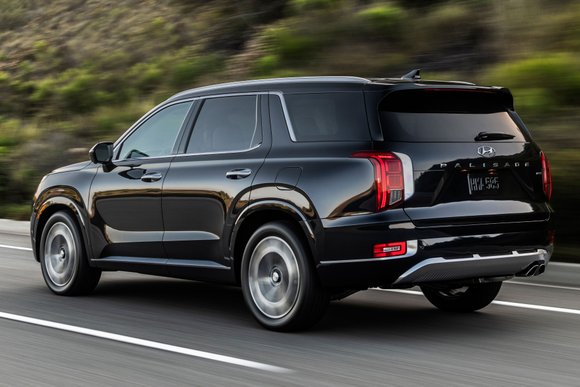 At just over $47,000, the FWD Calligraphy trim is $1,700 more affordable but won't be "cheap" by any means. For comparison, that's $3,370 more expensive than a 2021 Kia Telluride SX ($43,855 for FWD) but could provide a more logical step up from the recently-added 2021 Hyundai Santa Fe Calligraphy (MSRP $43,475).
The Palisade has continued to be one of the hottest-selling SUVs of the year. According to Cox Automotive, Palisade inventory fell to just a 36 days' supply last month, well below the industry average of 75 days. For the large part of the year, this has resulted in high prices and a noticeable lack of manufacturer incentives.
Although we briefly saw 0% APR on the 2020 Palisade just before it sold out, deals have been hard to come by. Even a "no payments for 5 months" deal advertised nationally by Hyundai specifically excludes the Palisade. We expect Hyundai incentives to continue to favor easier-to-find models like the Sonata and Santa Fe.
Those looking for a deal should be aware that the revamped 2021 Santa Fe offers leases starting at $199/month. In addition, dealer incentive bulletins reveal that the Santa Fe Calligraphy is eligible for up to a $3,000 lease discount. As a result, it could be a decent way to buy a Calligraphy model for a lot less money.