Those looking to lease a 2021 Hyundai Veloster N shouldn't be put off by a steep new price increase. In addition to having more standard equipment, our analysis finds that the 250-horsepower performance hatchback can be just $10/month more expensive to lease than the outgoing model despite a $4,650 difference in MSRP.
According to a bulletin sent to dealers Saturday, the 2021 Veloster N with 6-speed manual transmission will debut at $429 for 36 months with $2,599 due at signing. That's based on an MSRP of $33,245, an allowance of 10,000 miles per year, and equates to an effective cost of $501/month. That's $10 more than the outgoing car.
At the same time, the 2020 Veloster N is listed at $419 for 36 months with the same amount at signing. The mileage allowance is identical, but the underlying MSRP is $28,595. Its effective cost comes out to $491/month before taxes & fees. So why is the latest version such a better deal? The answer is hidden in the details.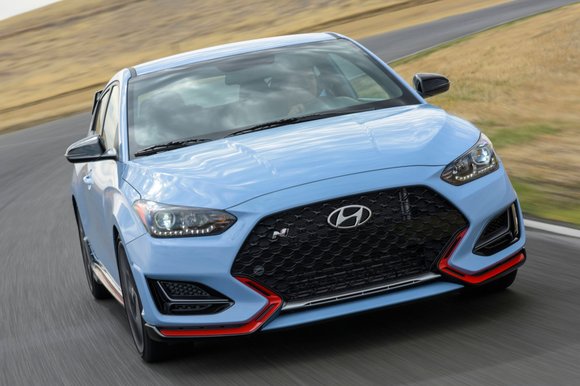 As you can see below, the key factors that determine the value of a lease clearly favor the latest version. In addition to a higher residual value, Hyundai Finance is offering a lower money factor (represented here as an APR), with a small cash incentive to boot. As a result, the latest version could be a smart upgrade.
2020 Veloster N: $0 Lease Cash, 4.9% APR, 50% residual value
2021 Veloster N: $250 Lease Cash, 2.7% APR, 52% residual value
Curiously, financing incentives for the Veloster N are remarkably similar. For example, the 2021 N is listed at 1.9% APR for 60 months, with a 72-month option at 2.9%. Believe it or not, those are the same rates as the 2020 model. The only real advantage of the outgoing car is that it offers 0% financing for 48 months.
As we reported last week, the 2021 Veloster N makes the Performance Package standard and offers a number of interior enhancements. Although a higher MSRP may be off-putting, a difference of just $10/month could make the latest version a far more compelling choice for those looking to get more for their money.
As usual, actual prices are determined by dealers based on local availability and market demand. For the best results, be sure to compare prices from multiple dealers. Current Hyundai offers end November 2.