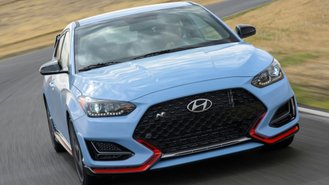 Hyundai shoppers will find a slew of 0% APR deals this month on the brand's 2021 lineup. In an unusual move, dealer incentive bulletins show that the power-packed Veloster N is now eligible for 0% APR for 60 months. Based on our analysis, that's the best deal to date on this model and could amount to a decent price cut.
As of yesterday, all 2021 Velosters are eligible for 0% APR for 60 months, a reduction from the previous rate of 1.9%. On a $35,000 car, this offers a potential advantage of roughly $29/month or $1,700 over the life of the loan. The best deal we have on record is 0% for 48 months on the 2020 Veloster before it sold out last fall.
That said, there are some important downsides. First, Hyundai's 72-month Veloster financing rate remains unchanged at 2.9%, so there's no advantage if you're looking to lower your payment with a longer loan. The same goes for lease prices. Here in Southern California, the N continues to be listed at $429 for 36 months with $2,599 at signing.
If you've been waiting for the right deal to come along, now could be a good time if you buy rather than lease. The 2021 Veloster N is over $4,600 more expensive than the previous year but benefits from the addition of the N Performance Package as standard equipment. It also now offers a DCT variant for those who aren't keen on owning a manual.
Alternatively, we think hot hatch shoppers may find surprisingly good prices on the Volkswagen GTI. Dealer incentive bulletins show VW is offering 0% APR for 60 months and a better 72-month rate of 1.9%. You won't see it advertised, but dealers are also being given up to a $500 dealer cash incentive to help lower prices when you finance.
Current Hyundai offers will end on March 31, 2021.