If you've been waiting for the right deal to come along on the sporty new Kia K5, now may be a good time to buy. For the first time since its introduction last summer, midsize car buyers are now able to score 0% APR. In some cases, zero-interest financing may translate to significant savings in the absence of cash incentives.
On Tuesday, all versions of the 2021 K5 became eligible for 0% APR for 60 months. While interest-free loans aren't all that rare in today's market, this marks the first time that Kia has offered the rock-bottom rate on its newest sedan. Even better, shoppers switching brands can stack the deal with a $750 conquest bonus.
Those planning to buy a K5 will likely find it a no-brainer to finance through Kia. That's because, unlike most competitors, the K5 features no standard rebates. On a $25,000 car, a 0% loan would cost about $417/month before taxes & fees. A 5-year loan at 4% APR would cost $460 and involve over $2,600 in interest.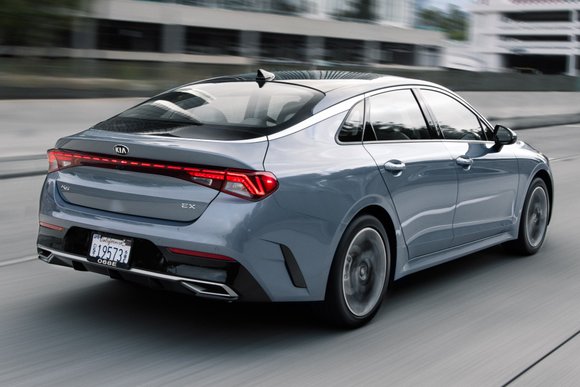 While last month's deal wasn't all that different at 0.9%, the $750 bonus is new. On a $25,000 car, that translates to a roughly $1,300 advantage in terms of total estimated cost. Relative to MSRP, that equates to a roughly 5% price cut. That's a pretty good discount when comparing costs from one month to the next.
If you're looking to lease, a $10 cut in payment has resulted in a tempting $199/month lease on the LXS trim. With a 36-month lease and $2,999 due at signing, its effective cost comes out to just $282/month. Here in Southern California, that undercuts both the 2021 Toyota Camry LE ($305) and Honda Accord LX ($310).
That said, the 2021 Hyundai Sonata continues to be far more affordable to lease. With an effective cost of $257/month, it remains one of the cheapest leases in its segment and is among the best cars you can lease. Still, those set on a K5 will likely find January to be the best time to date to either buy or lease.
Current Kia offers end on February 1, 2021.