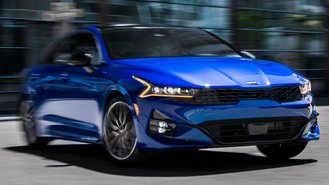 The all-new Kia K5 will debut with a handful of deals for buying & leasing, according to a bulletin sent to dealers. When it arrives this summer, the car will offer up to $2,000 in savings as well as low-interest financing. However, our analysis finds that early discounts appear to favor those looking to lease rather than buy.
To start, Kia Motor Finance is offering 0.9% APR for 48 months. Alternatively, the company is offering 60-month and 66-month options at 1.9% and 2.9%, respectively. There's even a 72-month option at 3.9%. We aren't seeing any rebates just yet, but those looking to lease will find some aggressive discounts.
Unlike its competitors, Kia's K5 lease deals vary by trim and lease term. At the moment, 36-month leases offer between $900 off for the new GT-Line to as much as $1,100 for the LXS and EX. Interestingly, opting for a 24-month lease gets you up to $2,000 off the EX (or $1,900 for the LXS and $1,600 for the GT-Line).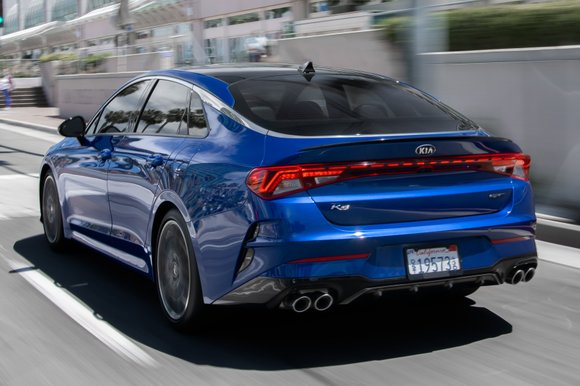 But will the K5 be good to lease? That depends. Although Kia's documentation says all K5s are eligible for low-interest financing, the leasing info doesn't list any offers for either the entry-level LX or range-topping GT. While the GT isn't due to arrive until this fall, it's unclear if the LX will debut with a lease option.
Kia's first lease on the K5 will actually be a $229/month deal on the LXS for 36 months with $2,999 due at signing. That's based on an MSRP of $25,455 and an allowance of 12,000 miles per year. Based on our analysis, the effective cost of this lease comes out to $312/month. That's not bad, but it's also not cheap.
At that price, it'll be $40/month more than a 2020 Optima LX ($272) and $25 pricier than a 2020 Hyundai Sonata SE here in Southern California ($287). The Sonata has been on sale for over half a year and is among the cheapest midsize cars you can lease. Those looking to buy will likely find the Sonata a better deal.
Rebates on the Sonata are currently worth up to $2,000 after a $500 loyalty discount. Financing rates have been up and down, with the best deal being 0% APR for 60 months back in May before it went up for Independence Day. Although Sonata prices start $120 higher, bigger incentives could make them a better buy.
If you're not willing to wait until K5s get a rebate, there's a potential alternative worth knowing about. For example, those with the means to do so may find it smart to lease and then immediately "buy it out." Doing so could enable those looking to own one a way to take advantage of incentives that favor leasing.
Current K5 offers are set to end on August 3.