Kia's newest SUV, the 2021 Sorento, is on sale now with as much as a $2,100 lease incentive, discounted financing, and an introductory lease starting at just $279/month. However, our analysis of the model's first offers finds some important drawbacks that could make the redesigned midsize SUV a pretty lousy deal.
According to a bulletin sent to dealers today, the new Sorento LX can be leased from $279 for 36 months with $3,499 due at signing. That's based on an MSRP of $30,560 and 12,000 miles per year of driving. With an effective cost of $376/month, that's $50 more than the cheapest lease on the 2020 Sorento LX ($326).
While the deal in question reflects $800 in manufacturer lease cash, opting for a 24-month lease can get you access to as much as $2,100 in savings for the exact same trim. Interestingly, the combination of the larger discount and a higher residual value results in the 24 and 36-month leases having the exact same price.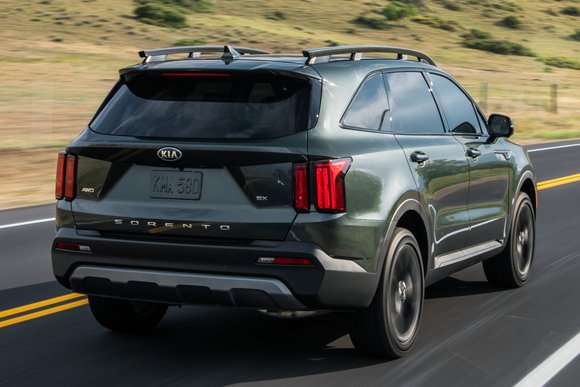 At the moment, the LX and S have the best discounts, with no such savings on the EX or SX on a 36-month lease. Curiously, the Sorento S manages to be just $20/month more than the LX despite a $2,500 difference in MSRP because of a better residual value. As a result, it could be a smart upgrade when leasing.
Sadly, buying the new Sorento could be a lousy proposition. The best rate through Kia Motor Finance is currently 1.9% APR for up to 66 months, with a 72-month option at 2.9%. There's also an 84-month loan at 3.9% APR, although consumers should be aware that 84-month loans may not always be a good idea.
To put that into perspective, 2020 Sorentos feature some of the best discounts to date with a choice between 0% APR for 75 months or as much as a $5,500 rebate. We actually think buyers will find the 2020 Hyundai Santa Fe to be a far superior value when leased, at least based on offers here in Southern California.
At the moment, the SE trim can be leased from $189 for 36 months with $2,899 at signing. With an effective cost of $270/month, that makes the Santa Fe $106 per month cheaper than the Sorento and one of the cheapest leases on a midsize SUV. That's a substantial difference when comparing monthly costs.
As we reported yesterday, the 2021 Sorento features a much higher starting price than the previous year. Now that the entry-level L trim is gone, the cheapest Sorento costs $2,450 more than before. Unless something changes for Black Friday, we think bargain hunters may want to consider waiting for better deals.
Current Kia offers end on November 30. Be sure to follow our ongoing Black Friday deal coverage for updates.