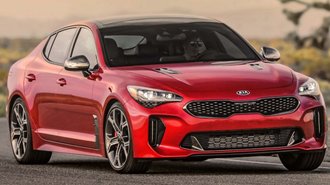 Kia is laying out some aggressive discounts on the 2021 Stinger before its arrival at dealers. According to incentive bulletins sent to dealers today, the automaker is offering up to $7,700 in savings as well as low APR financing. However, our analysis finds that there are some catches worth knowing about ahead of Labor Day.
As we've seen in the past, the best discounts on the Stinger are for leasing. In the case of a standard model with the 2.0L turbocharged engine, the brand is offering at least $4,900 in factory lease cash on a 36-month lease. The potent 3.3T V6 is eligible for as much as $5,700 at the very top of the model's price range.
24-month leases can get shoppers access to even deeper discounts starting at $6,000 for the base Stinger and $7,700 for the range-topping GT2. Interestingly, 36 and 24-month leases for the entry-level 2.0L turbo actually have the same price: $299 per month with $3,999 at signing based on 10,000 miles of driving per year.
Believe it or not, that's just $10 more than what the brand is advertising on the 2020 Stinger GT-Line. If you're looking to buy a 2021 Stinger, Kia isn't offering any great options just yet, with a choice between $1,000 cash or 0.9% financing for 66 months. 72 and 84-month options are available at 1.9% and 3.9%, respectively.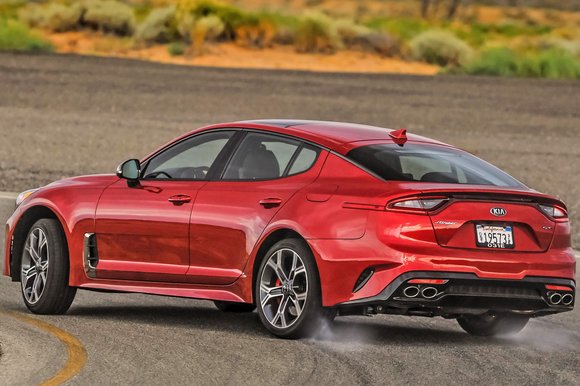 Financing a Stinger appears to offer a clear advantage over the rebate. On a $35,000 car, opting for the rebate would cost approximately $4,959 in interest at $590/month assuming a 66-month rate of 5%. At 0.9% APR, the money spent on interest would fall to just $887 at $544/month before factoring taxes & fees.
Having said all of that, there could be an alternative worth considering. Some buyers may find the most value in leasing the Stinger to snag the better discount and then purchase the car. You'll still need to negotiate the best price possible at your local dealer, but doing so could get you the maximum possible value.
The 2021 Stinger is essentially a carryover, although Kia today confirmed that a more powerful 2.5L turbo with 300 hp will arrive sometime later this year. The deals listed here are for the 2.0T and 3.3T, which continue to be rated at 255 hp with 260 lb-ft of torque and 365 hp with 376 lb-ft, respectively.
Offers on the 2020 Stinger remain pretty good for Labor Day with 0% APR for 66 months or up to a $3,000 for buying the V6 and $2,000 for the 2.0T. Both options also offer an additional $2,000 "VIN Sticker Bonus", but our analysis finds that one of the key drawbacks is that only specially-tagged inventory is eligible.
Offers end September 8.
Editor's Note: We've updated this article to add clarification following today's announcement from Kia about the addition of a new 2.5L turbo option.