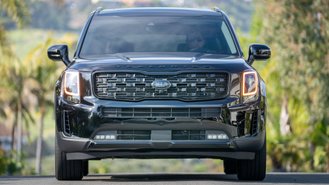 It hasn't gotten any easier to get a deal on the Kia Telluride after roughly 2 years on the market. In fact, consumer demand and limited availability are continuing to result in high prices in many parts of the country. In some cases, dealer markups can reach as high as $10,000 for the privilege of being able to drive one home.
While Kia is often known for being a value brand, Telluride buyers will likely have a very different experience. In perhaps one of the most extreme cases we've seen to date, a dealer in Vacaville, CA is currently asking for a $10,000 markup on a white 2021 Telluride SX with Prestige Package. It has a stated MSRP of $50,805.
To make matters worse, none of this is disclosed up front on the dealer's website. When we heard back from the dealer, we were told that this was "just supply and demand." The rep noted that Hyundai Palisades had the same markup at the dealership next door but that they did have one in stock at $5,000 over MSRP.
The fact that there can be markups is nothing new. However, the fact that the Telluride has continued to command high prices since its introduction 2 years ago could be discouraging to buyers. After all, these are the types of markups we've been seeing on the C8 Corvette that have continued to keep prices high.
According to our Telluride payment calculator, an SUV costing $60,800 at $0 down would come out to $1,063/month based on a 5-year loan at Kia's rate of 1.9% APR before taxes & fees. For that kind of money, our analysis finds that you could potentially lease an over-$80,000 BMW X7 and save money in the process.
Here in California, the 2021 X7 xDrive40i (MSRP $80,145) is listed at $889 for 36 months with $5,999 at signing, an effective cost of $1,056/month when switching brands. That's $7 less than the Telluride. While it's not really fair to compare offers for leasing vs. buying, this does help show much farther your money can go.
For now, there appears to be no relief on the horizon for Telluride buyers, especially after a recent price increase. While there's a chance that Kia could sweeten deals before the 2022 Telluride arrives, the odds of avoiding a markup may be slim. For now, buyers may be lucky if they can manage to simply pay full retail.
Current Kia offers end on March 1, 2021.