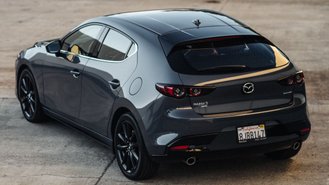 The 2021 Mazda3 may look a lot like the current car, but a new turbo model promises a big dose of excitement with up to 250 hp when it arrives later this year. Interestingly, a dealer incentive bulletin reveals that the brand is already offering a low-interest financing deal. However, there are some important drawbacks.
The good news is that both the 2021 Mazda3 sedan and hatchback are eligible for 1.9% APR for up to 60 months, with a 72-month option available at 3.9%. The bad news is that we aren't seeing any rebates or lease incentives just yet, although it's likely that the updated Mazda3 will qualify for the brand's $750 loyalty discount.
In terms of cost, choosing the 60-month offer would equate to roughly $1,226 in interest on a $25,000 car with a payment of $437/month before taxes & fees. Although the 72-month deal would potentially lower the monthly payment to $390, it would more than double the amount of money spent on interest to $3,079.
Deals on the 2020 Mazda3 remain very good ahead of Labor Day, with 0% APR for 60 months or 1.9% for 72. The vehicle also features a $500 bonus when financing, which equates to a substantial advantage over the car's $1,000 rebate. Financing a 2020 also gets you access to deferred payments for up to 90 days.
Mazda remains one of the few brands offering a deferral program in response to COVID-19. When you compare financing offers for both years, the 2020 Mazda3 offers a roughly $1,700 advantage in cost (or almost $30/month) on a $25,000 car. That said, buyers adamant on buying the turbo will have no choice but to wait.
The Mazda3 turbo isn't expected to arrive until later this year. It's also worth noting that Mazda will also begin selling a turbocharged CX-30 with a very similar price tag. As a result, current shoppers will likely find themselves weighing the benefits of a good deal now or the uncertainty of waiting until the end of the year.
Current offers end August 31. Be sure to follow CarsDirect's ongoing Labor Day deal coverage for possible updates.