The refreshed 2021 Armada presents a great lease deal this month compared to the 2020 Armada. Despite being the more expensive vehicle and coming with more standard features after its recent update, the 2021 Armada can be $12 cheaper to lease than the 2020 model.

This month, the 2021 Armada SV ($56,715, including destination fees), is available from $675/month with $675 due at signing, leading to an effective monthly cost of $694. It also comes with a $2,000 loyalty bonus available to current Nissan owners. The 2020 Armada SV ($50,315) starts at $687/month with $687 due at signing which equates to an effective monthly cost of $706. This means the 2021 model is actually $12 less per month to lease even though it's over $6,000 more expensive and comes much more well-equipped. Both leases come with a 36-month term and a 10,000 mile per year allowance.
According to dealer lease documents, a higher residual value on the 2021 Armada is the reason behind the lower payment. The 2021 Armada's residual value is 8% higher than the 2020 model meaning you'll be paying towards a lower portion of the selling price over the life of the lease on the 2021, resulting in a lower monthly payment.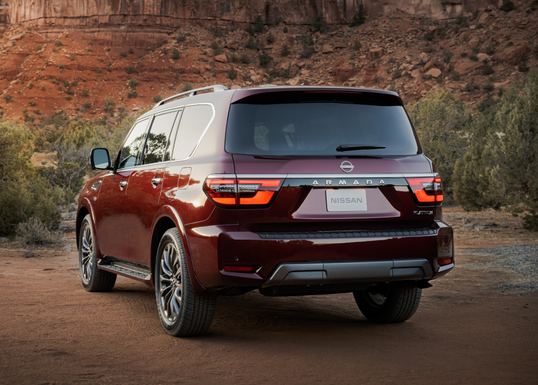 For the money, the refreshed 2021 Armada brings a slew of updates. Aside from new exterior styling, the 2021 gains a larger 12.3 infotainment screen and standard wireless Apple CarPlay and Android Auto. Additionally, although both come with a 5.6-liter V8 engine, the 2021 increases output to 400 horsepower and 413 lb-ft of torque (up from 390 hp and 394 lb-ft of torque in the 2020).
Alternatively, the 2021 Armada is also a great deal for those looking to finance. It debuts with a 0% APR deal for 36 months plus a $1,000 APR bonus and the $2,000 loyalty bonus for current customers. The 2020 model sees a slightly higher interest rate of 0.9% for 36 months but gets a slightly higher bonus worth $2,000. Although a 0.9% APR difference seems small, on a $56,000 vehicle, it can lead to $781 in interest savings over the life of the loan.
If you don't qualify for promotional financing, cash rebates are comparable between the 2020 and 2021 model. The 2020 Armada is eligible for $2,000 in customer cash plus another potential $2,500 in unadvertised dealer cash, although this discount isn't guaranteed. The 2021 model qualifies for a $1,000 bonus cash incentive plus the $2,000 loyalty bonus.
Current offers are based on a Los Angeles location and are available through March 1. Expect prices to be higher in other parts of the country.