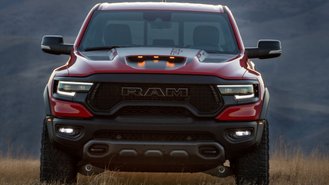 While leases can sometimes be a great way to get a deal on a truck, RAM's newest and most powerful pickup can command a sky-high price. In fact, our analysis finds that leasing the all-new RAM TRX can cost over $1,000/month and be over 30% more expensive than a Hellcat Challenger.
According to RAM's online payment calculator, the 2021 TRX is listed at $855 for 36 months with $7,179 due at signing. That's based on an MSRP of $71,690 and 10,000 miles per year of driving. At that price, its effective cost comes out to approximately $1,054/month before taxes & fees.
While there isn't an apples-to-apples comparison we can make at the moment since Ford doesn't advertise lease prices for the F-150 Raptor, we do know that the 702-horsepower TRX is over $200/month more expensive than an all-wheel-drive-equipped RAM 1500 Limited Crew Cab (MSRP $61,595).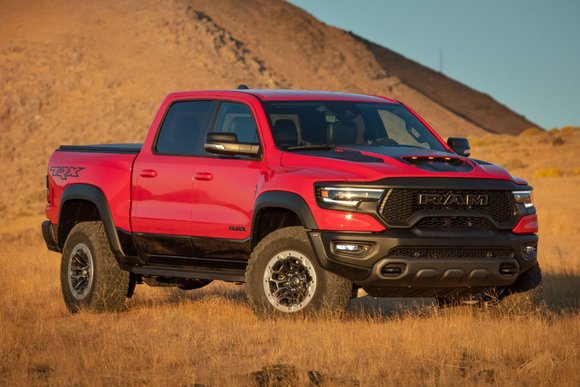 Believe it or not, horsepower-worshipping shoppers could save a good chunk of money by choosing an SRT Hellcat Dodge Challenger instead. Powered by the same supercharged 6.2L V8, it's listed at $551 for 36 months with $6,349 at signing, or $727/month.
That's $327/month less than the TRX, a difference of 31%. We find this largely attributable to the TRX's relatively high lease rate equivalent to 6.1% APR. Meanwhile, Dodge's offer on the SRT Challenger is based on a rate of 1.4%.
Those looking to deck-out their TRX with extra equipment will see even higher pricing. For example, adding the Level 2 Equipment and Advanced Safety Groups for the full range of comfort features & driver assistance technology can easily bring the truck's price tag to nearly $81,000.
There's also the prospect of dealer mark-ups based on limited availability. That could be jarring for shoppers considering some of the best truck incentives for Presidents' Day involve other versions of the RAM 1500 with deals like 0% financing for up to 6 years plus up to $5,000 in cash.
Current RAM offers end on March 1, 2021.
Note: Figures for the Challenger include the cost of the optional automatic transmission (MSRP $2,995).