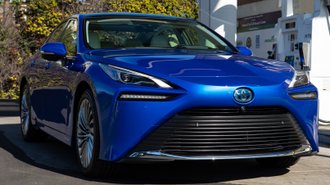 Update #2 (1/06/21): An earlier version of this article incorrectly stated that the $15,000 refueling card is limited to lessees. It is, in fact, available to both buyers and lessees. We've corrected the error.
Update #1 (1/05/21): We received confirmation from a Toyota spokesperson that the $8,000 hydrogen car tax credit was actually extended through December 31, 2021 following the signing into law of the recent budget deal. We've updated the text accordingly.
Toyota's newest car will debut with a $10,000 discount, according to a bulletin sent to dealers. Believe it or not, the redesigned Mirai fuel cell car will even offer buyers the ability to stack the incentive with 0% financing. The move comes following a massive price cut and the apparent last-minute extension of a federal tax credit.
Beginning tomorrow, all versions of the 2021 Mirai will offer a $10,000 APR Credit when taking out a loan at promotional rates through Toyota Financial here in California. What's more impressive is the fact that Toyota is introducing the new fuel cell electric vehicle (FCEV) with 0% APR financing for up to 60 months.
Bringing a redesigned car to market with a $10,000 discount is pretty unusual. However, what's really interesting is the fact that the car already costs $9,050 less than the previous generation. As Toyota announced late last month, the new Mirai costs $50,495 versus the 2020 Mirai's MSRP of $59,545 with destination.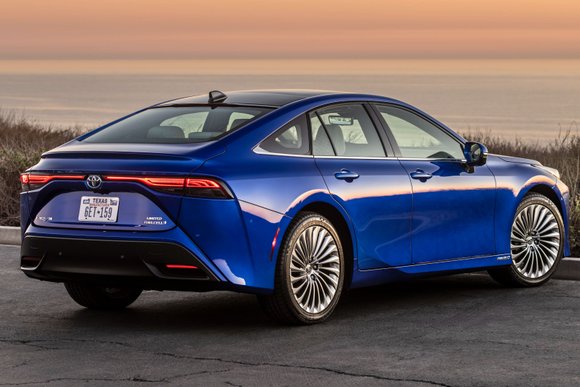 If you're able to combine the $10,000 discount with 0% APR and consider the $9,000 price cut and $8,000 tax credit, the brand's most advanced car could become an even more tempting proposition. That said, we found some potential drawbacks buried in the fine print that could be worth knowing about.
The biggest limitation is that the APR Bonus is only available when buying rather than leasing. Although EVs often feature generous lease incentives, that's not the case here. In fact, leasing a 2021 Mirai will only get you $1,750 in factory lease cash. Even then, it's only available on the Limited trim and not the entry-level XLE.
So does this make the Mirai a terrible car to lease? That depends. Like the 2020 Mirai, Toyota is offering up to a $15,000 refueling credit whether you decide to buy or lease. That's not a benefit you'll find on a traditional gas car, although we think it's worth noting that hydrogen refueling stations remain relatively hard to find.
The latest developments could be welcome news for buyers. While sales remain limited to California, lower prices and aggressive discounts could make the car a lot more affordable than one might expect. Unlike a battery-electric car, Toyota says the car can be refueled with up to 402 miles of range in about 5 minutes.
Toyota's decision to price the car to help offset the possible loss of the tax credit appears to follow our prediction that EVs may be less bound by such incentives in 2021. This is something we've already seen with the Chevy Bolt, and, together with a clean-sheet redesign, could make the Mirai an even better deal.
Current Toyota offers will end on February 1, 2021.