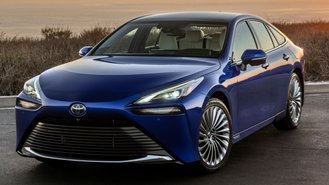 Toyota has doubled its discount on the all-new Mirai just two months after its arrival. According to the brand's latest dealer incentive bulletin, the high-tech 4-door hydrogen fuel cell car is now eligible for a whopping $20,000 incentive. Even better, the automaker is combining the deal with 0% APR financing for 6 years.
As of March 2, all 2021 Mirais now offer $20,000 of what's referred to as APR Subvention Cash. Unlike a traditional cash incentive, this is a bonus that a buyer can get when financing at a promotional rate through Toyota Financial Services. Back in January, the car actually debuted with a similar incentive worth $10,000.
But that's not all. At the same time, Toyota has extended zero-interest financing to 72 months (up from 60). On a $50,000 car, we estimate that this has effectively lowered the Mirai's monthly payment by $139/month ($833 vs. $694). And that's before taking into account the $20,000 discount and any state EV incentives.
That's pretty impressive considering the fact that Toyota cut Mirai prices by over $9,000 compared to the previous year. Having said that, the Mirai is only sold in California. With every available incentive, buyers in the Golden State may find the car to be surprisingly affordable despite its relatively high MSRP on paper.
For example, 2021 Mirai prices start at $50,495 with destination. With the $20,000 incentive, its cost can be reduced to just $30,495. The California Clean Vehicle Rebate offers $4,500 in additional savings, bringing the price down to $25,995. That's almost as affordable as the MSRP of the cheapest Toyota Prius ($25,520).
Mirai lease incentives have improved, too. Previously, the Mirai offered a paltry $1,750 in manufacturer lease cash and only on the pricey Limited trim. That discount has exploded to $9,450, a 440% increase month-over-month. The entry-level XLE is also now eligible for its first lease deal, although it's worth "just" $2,250.
It's also worth noting that Toyota is continuing to offer a $15,000 fuel credit. While we wouldn't go so far as to say that this can reduce your purchase price to $10,995 (or less with a federal tax credit), it could certainly lower the Mirai's ownership cost. For reference, discounts on the outgoing Mirai reached as high as $32,000.
Current Toyota incentives end March 31, 2021.