Toyota's newest plug-in model just got a lot more expensive to lease. According to offers introduced today, the RAV4 Prime is now up to $90/month more expensive to lease. The price increase could severely impact shoppers already dealing with high dealer markups and extremely limited inventory at dealers nationwide.
Starting today, the 2021 RAV4 Prime SE is listed at $439 for 36 months with $1,999 due at signing. The offer is based on a 12,000 mile-per-year lease and an MSRP of $41,973 here in Southern California. With an effective cost of $495/month, this represents a $90 price increase compared to last month's best price of $405.
While changes in price aren't uncommon, payments usually move lower, not higher. That's not the case here. At this price, the RAV4 Prime ends up being $140 (per month!) more expensive than a regular 2021 RAV4 LE. It has an effective cost of $355 based on $299 for 36 months with the exact same amount at signing.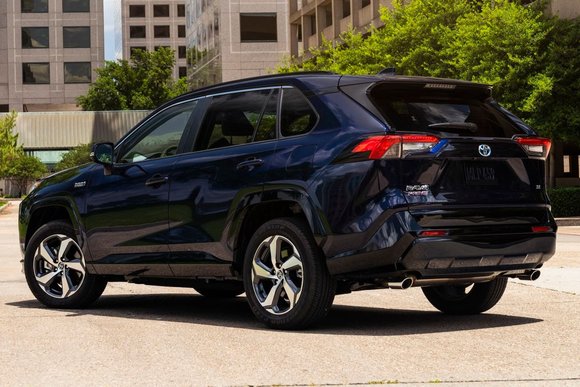 Believe it or not, that's not even the worst deal we're seeing. According to Toyota's online payment estimator, buying a Prime can be an incredibly expensive proposition at $665/month for 72 months based on a $0-down loan at 4.75% APR. There are no APR deals or rebates to speak of to help lower the upfront price.
Having said all of that, the Prime does offer extra savings because of the fact that it's a plug-in. For example, the vehicle's large battery pack makes it eligible for a $7,500 federal tax credit. In California, you can get an additional $1,000 Clean Vehicle Rebate for $8,500 in savings. Sadly, there's a big quirk worth knowing about.
Since its introduction, dealer lease bulletins show that Toyota Financial Services hasn't been passing-along the tax credit as additional lease cash like some EV and plug-in makers. For example, the 2020 Nissan LEAF electric car almost consistently offers over $10,000 in factory lease cash to help drive down its price.
We think this month's change could represent a correction in Toyota's strategy. According to last month's offers, the Prime featured no lease cash but actually offered a money factor equivalent to 0% APR. When you consider the vehicle's limited production and high real-world prices, this month's change may not be so surprising.
Looking for a better deal? You may want to consider a 2020 Prius Prime. Prices here in Southern California are down $20/month to just $229 for 36 months with $1,999 at signing. That makes it $210 (per month) cheaper than its big brother and just $10 more expensive than a 2021 Corolla SE Hatchback ($275).
Current Toyota offers end November 2.