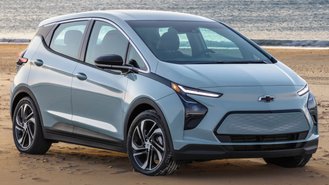 Now that we know 2022 Chevy Bolt EUV leases will start at $299/month based on a national incentive offer, our analysis finds that the new 100% electric SUV will have a surprisingly good residual value. However, a high residual may do very little to help change the fact that the new Bolt EUV is very expensive to lease.
According to a bulletin sent to Chevy dealers last week, the all-new Bolt EUV has a 36-month residual value of 56%. That's based on 10,000 miles per year, offering a 3% advantage compared to the 53% residual of a standard 15,000 mile-per-year lease. That's a much higher residual value than the new Volkswagen ID.4.
For reference, the ID.4 has a 36-month residual of 49% based on 10,000 miles per year and 46% on a 15,000 mile-per-year lease. Meanwhile, the all-new Ford Mustang Mach-E has a residual value of 58% based on 10,500 miles per year. However, there's a far more important factor differentiating these three new EVs.
First, the Bolt EUV doesn't have any lease cash incentives to help drive down its price. GM also no longer qualifies for a $7,500 federal tax credit. Although the Mustang Mach-E is still eligible for the credit, Ford isn't passing it along to lessees and is instead promoting a new lease-like alternative called Ford Options Plan.
In contrast, VW is offering the full value of the credit via $7,500 in lease cash. As a result, EV shoppers may find the ID.4 to be a way better deal. To start, the ID.4 Pro is being advertised at $379 for 36 months with $3,573 at signing. That's based on 10,000 miles per year and has an effective cost of $478/month before taxes.
Meanwhile, the Bolt EUV is listed at $299 with $4,299 at signing. When you factor out a $1,500 loyalty/conquest cash incentive, the actual amount due at signing is $5,799. At that point, the SUV's effective cost comes out to $460. While that's technically cheaper than the ID.4, there's more to the story when you compare prices.
The MSRP of the Bolt EUV starts at $31,995 with destination, $9,195 less than the $41,190 price of the ID.4. While that may seem impressive on paper, the ID.4 is only $18 more to lease. As a result, choosing the best deal may not be as easy as you think if you're looking to lease either one of these highly-anticipated EVs.