EV buyers accustomed to seeing big rebates and ultra-cheap leases on the Chevy Bolt could be in for a rude awakening when the latest version arrives this summer. According to incentive bulletins sent to dealers today, the restyled 2022 Bolt EV and new Bolt EUV will feature radically different offers for buying & leasing.
First, both models will feature no standard rebates for buying. In contrast, 2021 Bolts went on sale last December and discounts surged after the 2022 Bolt was announced. The outgoing model now features up to $12,000 in savings based on a $9,000 rebate plus a $3,000 bonus on EVs equipped with DC Fast Charge.
We're seeing the same discrepancy when it comes to leases. With absolutely no standard lease cash to speak of, the 2022 Bolt could be more expensive than shoppers expect. To put that into perspective, incentives on the 2021 Bolt offer up to $8,400 in savings in some regions, with offers starting at just $175/month.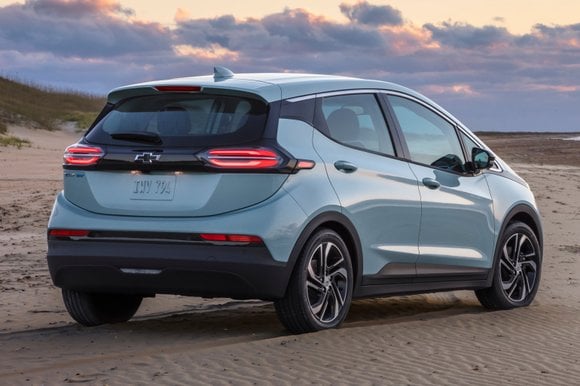 When the 2022 Bolt was revealed, Chevy announced that the hatchback would be $5,500 cheaper than the previous year. We mused at the time that the Bolt's price cut could be effectively meaningless given the crazy rebates Chevy offers. That said, a change in pricing structure could explain today's development.
As we reported recently, Chevy's MSRPs for the 2022 Bolts are identical to their invoice prices and may not involve dealer holdback. By eliminating the margin seen on most vehicles, we surmised that the brand was taking a page from Tesla's playbook by offering something akin to a "one price" model on its newest EVs.
While a lower price tag is certainly appealing if you don't want to haggle, shoppers expecting to "get a deal" could be disappointed. For now, the only real discount on either the 2022 Bolt EV or Bolt EUV is a $1,500 bonus for current 2016-or-newer lessees of a GM or non-GM vehicle that you'll also find on other Chevy models.
Stay tuned for updates to our Memorial Day car deal coverage later this month.