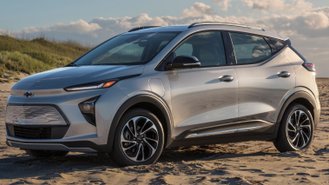 The costs to lease the 2022 Bolt EV and the crossover-like 2022 Bolt EUV have finally been revealed, based on a national leasing bulletin sent to Chevy dealers last week. While the lease deals will start at just $269/month for the hatchback and $299 for the SUV, the actual cost to lease both models will be shockingly expensive.
To start, the 2022 Bolt EV 1LT is listed at $269 for 36 months with $4,179 due at signing based on an MSRP of $31,995 and 10,000 miles per year. Its effective cost comes out to $385/month, although the price includes a $1,500 discount for coming from another GM or non-GM lease. If you factor that out, the cost rises to $427.
Meanwhile, the first lease on the 2022 Bolt EUV 2LT will start at $299 for 36 months with $4,299 at signing for an effective cost of $418/month. Here, too, factoring out the $1,500 loyalty discount/conquest incentive raises the upfront cost to an eye-watering $5,799, bringing the effective cost to $460 before applicable taxes & fees.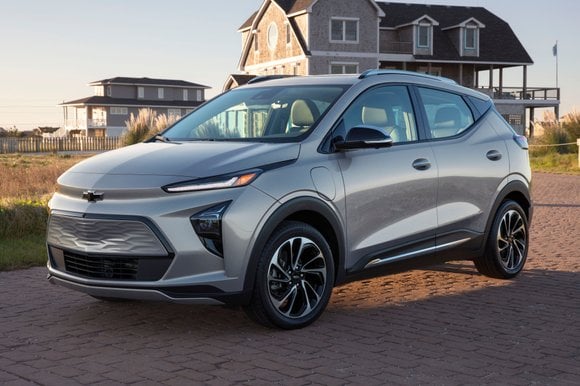 This effectively translates to a $33/month cost to upgrade from the hatchback to the EUV. With that being said, at $460/month, the $33,995 Bolt EUV will end up being $18 cheaper than the 2021 Volkswagen ID.4 Pro. The ID.4 debuted with a $379/month lease promotion that has an effective cost of approximately $478.
Compared to the outgoing model, the new Bolts will be surprisingly expensive. Even with every discount applied, an effective cost of $385/month for the 2022 Bolt hatchback will cost about $165 per month more than a 2021 Bolt LT with Fast Charge ($220/month and among the cheapest leases this month on any vehicle).
The main reason for the Bolts' awful lease numbers is the fact that there are no discounts other than the $1,500 bonus mentioned above. Just for reference, the VW ID.4 offers a $7,500 incentive representing the full value of a federal tax credit. This gives the ID.4 an advantage over both the Bolt and the Ford Mustang Mach-E.
Buying instead of leasing may not make much of a difference since there are no rebates. Meanwhile, 2021 Bolts currently offer up to $12,000 in savings before state and local plug-in rebates, one of the biggest car discounts before Memorial Day. In some cases, this difference in incentives could offset the 2022 Bolt's price cut.
It remains to be seen whether or not these offers will improve and to what degree a worsening inventory shortage could affect real-world prices at dealers. Still, a key change in the 2022 Bolt's underlying pricing structure appears to affirm our earlier assertion that massive Bolt discounts could soon become a thing of the past.