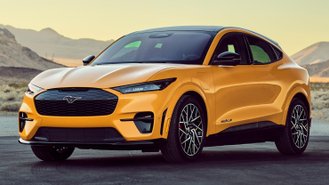 If you're looking for the cheapest way to buy a Ford Mustang Mach-E, 84-month financing may be a bad idea. Based on our analysis of dealer incentive bulletins, choosing a 7-year loan on the wildly popular EV could potentially cost buyers up to $18,000 in interest and may not end up being the best deal you can get.
The range-topping 2022 Mach-E GT may be the worst deal right now with an 84-month loan rate of 7.9% APR. On a $60,000 vehicle, we estimate that would translate to $18,304 in interest before any other incentives. Lower-priced versions of the Mach-E offer a slightly lower rate of 5.9% APR through Ford Credit.
On a 7-year loan, a $60,000 GT would have a monthly payment of about $932 before taxes & fees. In contrast, Ford's 6-year rate on the same vehicle is 5.9%, which would translate to $992/month. Even though the payment is lower with an 84-month auto loan, the total cost ends up being about $6,900 more expensive.
That isn't to say there aren't deals to be had. The brand's lease-like Ford Options Plan continues to offer an alternative with a built-in $2,500 cash incentive. While the company still isn't passing along a $7,500 federal EV tax credit to those looking to lease, it remains available when buying or through Ford Options Plan.
If you're expecting to score a deal on the 2021 Mach-E, think again. Ford's 7-year rates on the outgoing model are actually identical to those of the latest version. As a result, opting for the newest model could be a smarter choice. Just keep in mind that Ford is still quoting a minimum 28-week wait on new Mach-E GT orders.