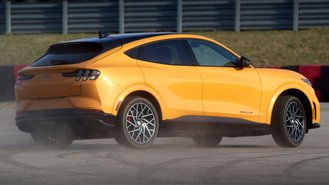 The latest version of the Mustang Mach-E already offers interest rates as low as 0% APR. According to a bulletin sent to dealers, the 2022 Mach-E offers zero-interest financing. Interestingly, that's the same deal you'll find on the 2021 Mach-E, potentially giving buyers a reason to choose the latest version of the EV.
To start, Ford Credit is offering 0% APR for 36 months on most versions of the 2022 Mach-E. There are also 48, 60, and 72-month options at 0.9%, 1.9%, and 3.9%, respectively. Interest rates for the higher-performance Mach-E GT start at 1.9% APR and are 2 percentage points higher when choosing longer loan terms.
These are the same rates you'll find on the 2021 model. New Mach-E orders have a minimum 20-week wait, based on Ford's website. In the case of the range-topping GT trim, buyers are in for at least a 28-week wait. That's quite a long lead time, exacerbated by a chip shortage and resulting production delays.
After months of encouraging special orders with a $1,000 discount, Ford says it won't be able to deliver every 2021 vehicle order. In some cases, that may force buyers to accept a 2022 model. The brand recently added a $2,000 incentive to buy in-stock cars, a deal few Mach-E buyers are able to take advantage of.
For now, Mach-E buyers may have no choice but to wait. There are no signs that Ford plans to change its practice of keeping the $7,500 federal tax credit when the Mach-E is leased. This could continue to give an advantage to buyers or those who choose a lease-like balloon financing program called Ford Options Plan.