Ford is preparing to increase prices next week on the Mustang Mach-E. According to a bulletin sent to dealers, the all-electric SUV will see a price increase of up to $3,000 on some configurations. If you're looking to lock-in current Mach-E prices before the change, now may be your last chance to place an order.
The changes will take effect on December 8th and will affect every 2022 Mach-E. At the entry-level, both the Mach-E Select and Premium will see a $1,000 increase in MSRP. Higher up the range, the California Route 1 and GT will be $2,000 more expensive. Sadly, the actual price increase could be even higher.
That's because Ford is increasing MSRPs on both the GT Performance Package and optional Extended Range Battery by $1,000. As a result, some buyers could see a total price increase of up to $3,000. The Performance Edition currently costs $5,000 and can go from 0-60 mph in just 3.5 seconds (vs. 3.8 in the GT).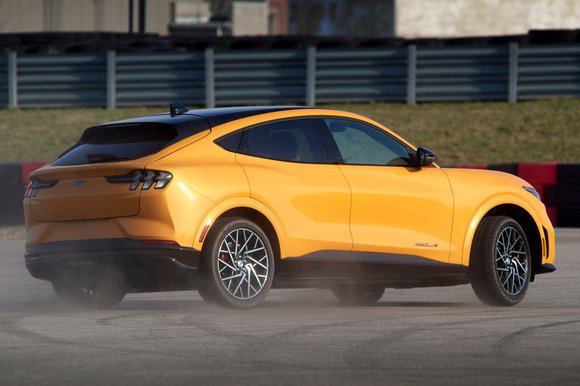 While mid-year price increases aren't unusual, we consider these changes unusually large. The Mach-E has faced a number of production issues and continues to have a wait of up to 28 weeks. Delays recently compelled the brand to begin automatically converting existing Mach-E orders to the 2022 model year.
As we reported back in October, the 2022 Mach-E debuted with the same starting price as the 2021 model. Although it's unclear why Ford didn't simply increase prices from the start when the latest SUV went on sale, now could offer a chance to place a firm order for a Mach-E before prices go up on Wednesday.
Current Mach-E prices start at $43,995 with destination before incentives. Mach-E deals continue to offer interest rates as low as 0% APR and a lease-like choice called Ford Options Plan. As before, Ford Credit isn't passing along a $7,500 federal tax credit on leases, making the Mach-E smarter to buy than lease.
A Ford spokesperson did not immediately respond to a request for comment.