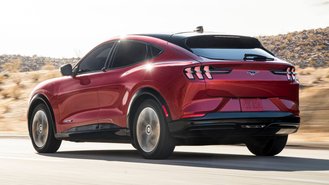 The latest version of the Ford Mustang Mach-E has the same base price and incentives as the previous year, according to dealer incentive bulletins. In addition to maintaining a starting price of $43,995 including destination, our analysis finds that Ford is offering as much as a $2,500 Mach-E rebate and 0% financing.
At the entry-level, the 2022 Mach-E Select continues to start at $43,995 ($42,895 plus a destination fee of $1,100). Although the EV now has a minimum wait of 20 weeks, the absence of a big base price increase could be reassuring for potential buyers facing a wait of just over half a year on higher-end configurations.
Even though a website error is making Mach-E prices look more expensive than they are, Ford is offering solid incentives on the 2022 Mach-E. As confirmed by company spokesperson Beverly Thacker, Ford is continuing to offer a $2,500 cash incentive as well as 2.25% financing with its lease-like Ford Options Plan.
These are the same incentives you could find on the 2021 Mach-E. As we reported previously, the 2022 Mach-E already offers 0% financing when purchasing. While the deal is somewhat disappointingly limited to a 36-month loan, that's actually better than the 0.9% APR deal the Mach-E launched with over a year ago.
If you think you'll score a deal on a 2021 Mach-E, you may be disappointed. An inventory shortage has made it especially hard to find the all-electric SUV. Although Ford is offering customers with delayed orders a $2,000 discount off in-stock vehicles, it may be close to impossible to use it on the Mach-E due to limited supply.
2021 Mach-E pictured