If you've been waiting for the first-ever Hyundai Elantra N, you may want to think twice if you're planning to lease. That's because Hyundai's latest leasing bulletin reveals Elantra N lease prices effectively cost $500/month. This could make the all-new performance car a tough sell if you're expecting to get a deal on a lease.
To start, the 2022 Elantra N is listed at $419 for 36 months with $2,899 due at signing. That's based on a 10,000 mile/year lease for a base model with the 6-speed manual transmission and an MSRP of $32,925. Based on our analysis, the effective cost of this lease comes out to $500/month excluding applicable taxes & fees.
That makes this a very expensive car to lease. While the Elantra N's lease rate isn't awful at 0.00088 (essentially 2.1% APR), a closer look finds that there are no lease cash incentives to bring down the price. The Elantra N's residual value is also just 52%, significantly lower than the 58% residual on a regular Elantra SE.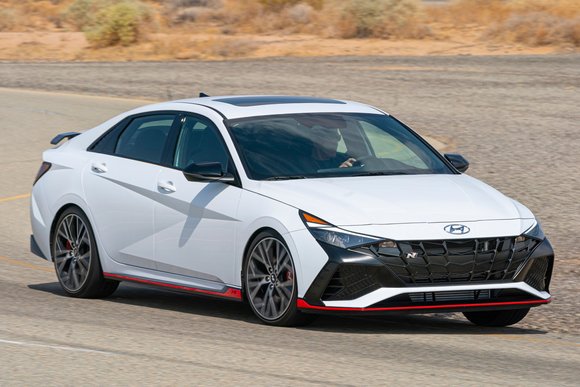 With an effective cost of $500, the Elantra N is $31/month cheaper to lease than Hyundai's featured Veloster N lease deal ($531). However, we think it's worth pointing out that this isn't an apples-to-apples comparison because the Veloster lease includes the cost of the optional dual-clutch automatic transmission.
We actually consider both cars pretty awful to lease. On paper, the cheapest Elantra N is more expensive than the brand's 2022 Palisade lease deal ($479 for the SE trim). This is also before considering a dealer markup given that there's an inventory shortage continuing to result in high prices for new cars across the U.S.
Switching brands could yield opportunities. For example, Kia's featured 2022 Stinger lease deal is based on an MSRP of $37,135 for the GT-Line but has an effective cost of just $430. If you're looking to get the most for your money, the Elantra N may not represent the best value if you're planning to lease one.
Current Hyundai offers can vary by region and end on January 3rd, 2022. Examples here are based on prices in Southern California.