The highly-anticipated Hyundai Kona N already has a lease deal just in time for the holidays. However, based on a dealer leasing bulletin, the Kona N lease prices can offer some important pros & cons worth knowing about when comparing lease deals with both the Veloster N as well as the first-ever Elantra N right now.
For starters, the 2022 Kona N is being advertised at $439 for 36 months with $3,599 due at signing based on a 10,000 mile/year lease and MSRP of $35,425. Based on our analysis, the effective cost of Hyundai's lease deal is $539/month, just $8 more than the brand's featured 2022 Veloster N lease deal ($531).
Given that the hatchback and all-new SUV have similar MSRPs, this may not be all that surprising. Although the Kona N's residual value is slightly better than the Veloster (55% vs. 54%), it does have a slight disadvantage in the underlying lease rate (0.00148 vs. 0.00123, or the difference between 3.6% and 3% APR).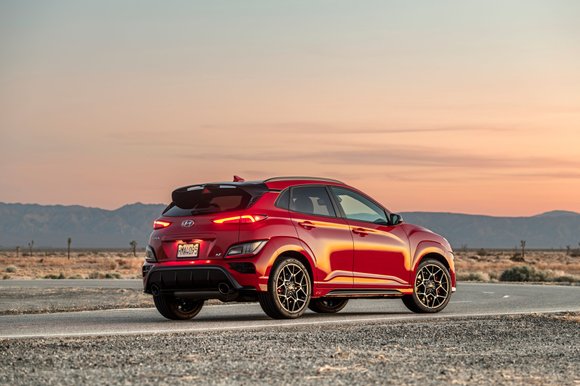 For $539/month, the Kona N is more expensive than recent deals on models costing thousands more on paper. For example, last month's Infiniti QX50 lease deal here in Southern California came out to an effective cost of $526 based on an MSRP of almost $40,000. Having said that, the Kona is a very different vehicle.
With some impressive performance credentials and practically zero competition given its $35,425 starting price, the Kona N could be a compelling choice. Although the first Elantra N lease prices are slightly cheaper at around $500/month, the likelihood of a dealer markup could make it extremely difficult to get a deal.
As we've noted previously, some dealers have balked at manufacturer lease deals based on theoretical assumptions. Given the fact that dealers determine actual selling prices, there's a strong possibility that Kona N shoppers may find themselves paying a significant premium for being among the first to bring one home.
Current Hyundai offers end on January 3rd and can vary by region. Examples here are based on prices in Southern California.